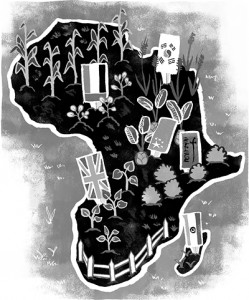 The National | September 12. 2009
Sarmad Khan
DUBAI // The Gulf's first agricultural investment fund is due to launch next month, focusing on land acquisitions related to cash-crop farming.
The US$350 million (Dh1.28 billion) fund, which will focus initially on rice farming in Africa and cereal cultivation in eastern Europe and former Soviet countries, is actively seeking joint ventures with Gulf family-owned conglomerates and sovereign wealth funds.
John Papesh, the managing director of Pharos Financial Group, a fund management firm based in the Dubai International Finance Centre, said: "The sky is the limit for agricultural investments and we have found tremendous appetite among our clients.
"The potential for agriculture is immense in terms of land valuations, investment yields and capital appreciation."
The fund is a joint venture with Miro Holding International, which has its headquarters in London. Miro Holding, which specialises in land acquisition and agricultural asset management, also operates from the Dubai Multi Commodities Centre.
The Pharos Miro Agricultural Fund, with a minimum subscription of $1m, is being offered to family offices, private equity groups and other investors across the region. Pharos hopes the fund will achieve returns of about 25 per cent over five years.
A decline in world equity markets over the past year, coupled with a rally in commodities, has encouraged many investors to reduce their stock holdings and instead target alternative investments. Gulf states have started to build holdings in foreign farmland, spurred by concerns over their long-term food security.
The UAE, which imports about 85 per cent of its food at an estimated cost of Dh10.64bn, was one of the first Gulf states to aim for agricultural investments overseas. It has initiated talks with Pakistan to acquire farmland in the country's agricultural free zones and invest up to $500m in Pakistan's farming sector.
What started as a government drive to secure cheap food resource has now become a viable business model and many Gulf companies are venturing into agricultural investments to diversify their portfolios.
Oliver Barnes, the chief executive of Miro Holdings, said: "We are already in talks with about a dozen investors from the region and will discuss joint venture options as soon as we are in a position to start investing.
"There is interest from sovereign wealth funds. But we expect the family offices to be on board first, as they have a quicker decision-making process.
"We will be happy to partner with the investors in Moldova, Romania and Tanzania, for rice and grain farming and Uzbekistan and Kazakhstan in the CIS region for wheat cultivation."
Al Qudra Holding, an investment firm in Abu Dhabi, said last month that it had already acquired 1,500 hectares in Morocco and Algeria and was considering buying land in Pakistan, Syria, Vietnam, Sudan and India.
The company said it plans to increase its land holdings to 400,000ha across the Middle East, east Africa and the Far East. The Emirates Investment Group, based in Sharjah, and Abraaj Capital, a private equity firm, also have agricultural land holdings in Pakistan.
Amara Holdings, a Dubai-based venture capital company, formed a partnership with New China Trust in June to make Sharia-compliant investments in the Chinese agricultural sector.
Jenaan, a privately held agricultural investment firm based in Abu Dhabi, is the latest company to have invested in the agriculture sector outside the UAE. Last month Jenaan said it would invest Dh925m to grow wheat in Egypt.
Mr Papesh said: "We are also toying with the idea of the launching a Sharia-compliant agricultural investment fund."
[email protected]