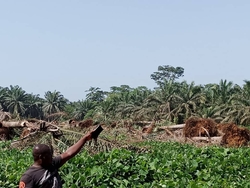 "Replanting is still going on right up to the edge of the concessions," says the Association of women living alongside the Edea plantation of SOCAPALM in Cameroon, who lack proper living space and demand their lands back
Collective press release | 30 May 2023 [FR]
SOCFIN certified irresponsible agriculture international champion for 2023
Conflicts linked to palm oil and rubber production on the SOCFIN Group's African and Southeast Asian plantations are still very much alive, as 2023 marks the tenth anniversary of the first global day of action to denounce these abuses. On May 30th, 2023, at the Annual General Meeting of Shareholders in Luxembourg, civil society will present SOCFIN with an "irresponsible agriculture" certificate. The aim is to denounce SOCFIN's self-regulatory practices, which prevent the resolution of land, social and environmental conflicts.
"We were confident that our living space would be returned to us after the old palm trees were cut down. Unfortunately, replanting is still going on right up to the edge of the concessions. We are at the point of explosion." Letter to President Paul Biya from an association of women living alongside the Edea plantation of SOCAPALM, 26 May 2023.
Whether it is the certification of plantations by the Roundtable for Sustainable Palm Oil (RSPO), the participation in the Global Platform for Sustainable Natural Rubber (GPSNR), or the "complaints assessment missions" carried out by a long-standing partner of the Group, the Earthworm Foundation, instead of an independent body, community representatives and allied NGOs denounce these maneuvers implemented by the company as means of invisibilizing conflicts rather than resolving them.
The RSPO loophole SOCFIN uses to certify its plantations: keep contested "base areas" outside the scope of the audit
SOCFIN claims that 96% of its palm oil mills were certified in 2023. This claim is refuted by local community representatives, who contest accuracy and the scope of its auditing process. They bolster their accusations with reports on serious incidents of pollution and harassment of resident whistle-blowers.
"SOCFIN provided (Earthworm) auditors with Company vehicles and Company translators during their interviews. This of course sapped credibility in their claim to independence. Immediately following the inspection, several town chiefs and section speakers were removed by our Paramount Chief for contesting company claims. New leaders were then appointed without elections. We are not represented when we do not choose our representatives." Extract from the petition objecting the RSPO certification of SOCFIN Sierra Leone
Following a review of the published audit reports and SOCFIN's timeline for plantation reform in Africa, the Dutch NGO Milieudefensie concluded in its February 2023 report that the RSPO process has a major loophole. Directly managed plantation areas within the "supply base" are not required to comply with the RSPO norms. They are held to be outside the scope of plantation certification. As a result, plantations that are directly managed by SOCFIN and deliver fresh fruit bunches to one and the same mill may consist of both certified and uncertified zones. Furthermore, the NGO identified instances where the Certification Body removed plantation areas "not certification ready" entirely from the audit process, a technique allowed in the RSPO system.
This allows for quick and dirty certification by handing out the sustainability label before solving the issues. This obviously makes it easier for plantation companies like SOCFIN to get certified, whilst they buy time to deal (or not?) with environmental or social issues at their plantations. SOCFIN gets image, market and financial benefits now, in exchange for a promise it is not held to keep.
SOCFIN refuses a conflict resolution process and imposes "verification" of abuses denounced by the communities
In April 2023, SOCFIN announced that the Group's longtime partner Earthworm Foundation would conduct an in-depth investigation of the grievances and ongoing conflicts of community organizations at several of its plantations, starting in Liberia and Cameroon.
The investigation process was unilateral: SOCFIN made no attempt to involve representatives of the communities and allied organizations to determine the modalities and the calendar of such a process. The process made public by SOCFIN and its partner Earthworm Foundation thus provides no guarantees as to the criteria that any investigation aiming towards conflict resolution should meet: independence, impartiality, transparency, inclusion of affected communities. Nor is Earthworm credible for its human rights-based approach: the Foundation has been funded by SOCFIN to "operationalize" the Group's dubious commitments to corporate responsibility since 2017. Thus, community representatives and independent NGOs have publicly refused to participate in what they denounce as an "illegitimate process". As per today, SOCFIN has not replied adequately to these concerns.
SOCFIN's "capture" of the audit process underscores the need to regulate company "due diligence" in order to stop the threats to human rights at their plantations
The SOCFIN Group has long refused to participate in or respect any conflict resolution process that is not directly piloted and controlled by the company. They refused to follow through with mediation via the OECD's National Contact Point in 2014 at their Cameroon plantations, as they did in 2019 following complaint to the International Finance Corporation by residents of the Group's SRC plantation in Liberia. As a member and funder of the RSPO, GPSNR and Earthworm Foundation, the SOCFIN Group can rest assured that its interests will be protected by these mechanisms.
The case of the SOCFIN Group underscores the failure of self-regulation of the agro-industrial sector. It is time for regulation of the industry. This is why we call for (1) ambitious regulation at European and Member States level on due diligence of European multinationals and (2) an immediate halt of operations on SOCFIN plantations where there are ongoing conflicts with local communities.
Signatories:
Bunong Indigenous People Association (BIPA), Cambodia
Collectif TANY, France & Madagascar
Entraide et Fraternité, Belgium
Etika asbl, Luxembourg
FIAN Belgium, Belgium
Frères des Hommes, Luxembourg
GRAIN, International
INSPIRIT Creatives, Germany
Justicitiz, Liberia
Milieudefensie, Netherlands
ReAct Transnational, France
Réseau des Acteurs du Développement Durable (RADD), Cameroon
Rettet den Regenwald, Germany
Sherpa, France
SOS Faim, Luxembourg
SYNAPARCAM, Cameroon
Contacts:
• (Luxembourg) Marine LEFEBVRE, SOS Faim - [email protected] - +35 249 09 96 26
• (International) Florence KROFF, FIAN Belgium - [email protected] - +32 475 84 56 24 /// Léa PAPINUTTI, ReAct Transnational – [email protected] - +33 755 63 25 97