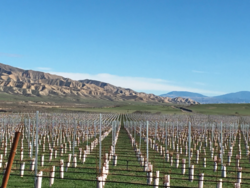 Brodiaea Inc., a subsidiary of the investment arm of Harvard University, purchased the 6,565-acre North Fork Ranch in 2012 and planted the largest vineyard in the Cuyama Valley, shown here in 2016. The valley's groundwater basin is in a state of critical overdraft. (Photo: Santa Barbara County Water Agency)
Santa Barbara Independent | 5 April 2023
Santa Barbara County planners deflect a Cuyama Valley 'water grab' by Harvard University
by Melinda Burns
Brodiaea Inc., a subsidiary of the investment arm of Harvard University, purchased the 6,565-acre North Fork Ranch in 2012 and planted the largest vineyard in the Cuyama Valley, shown here in 2016. The valley's groundwater basin is in a state of critical overdraft. | Credit: Santa Barbara County Water Agency
When a subsidiary of Harvard University's investment company bought the North Fork Ranch in the parched high desert of the Cuyama Valley in 2012 and planted 840 acres of wine grapes, the locals were stunned.
The 6,565-acre ranch, south of Highway 166 and the Cuyama River and nine miles west of New Cuyama, had been historically used as dry rangeland — but Harvard drilled 16 wells to irrigate its new vineyard, the largest in the valley. The county doesn't require a zoning permit to grow grapes, but Robbie Jaffe, co-owner of Condor's Hope Ranch, a five-acre vineyard less than two miles from North Fork, was worried that the pumping for the new vineyard — she didn't know back then that it belonged to Harvard — would affect her small operation.
"We were just astounded that there could possibly be the water supply in this area to put in a vineyard that size," Jaffe said. "It was literally shocking."
Brodiaea Inc., the North Fork owner, is a wholly owned subsidiary of the Harvard Management Company, Inc., which oversees investments of the university's $50 billion endowment fund. It is one of the largest water users in the Cuyama Valley. To the east, Bolthouse and Grimmway, giant carrot corporations based in Bakersfield, are mining the central portion of the groundwater basin to historically low levels, 1,000 feet deep in places.
The Cuyama Valley is a land of little rain; on average, it gets less than eight inches per year. After more than 75 years of pumping nonstop for water-guzzling crops — first alfalfa and now carrots — the groundwater basin has been designated by the state as one of 21 with a "critical overdraft." The remaining 20 are in the Central Valley. Over time, significantly more water has been pumped out of these agricultural basins than has been replenished by rain.
Under the state's Sustainable Groundwater Management Act of 2014, all groundwater basins must be brought back into balance by 2040. To comply, Cuyama Valley growers may have to cut their pumping by as much as two-thirds over the next 20 years.
Since 2017, Brodiaea has been proposing to build three "frost ponds" on 15 acres of land at the vineyard — huge storage reservoirs that the company says would supply an existing overhead spray system for frost protection. For this project, Brodiaea does need a county zoning permit; in 2019, under pressure from Jaffe and her neighbors, the Santa Barbara County Board of Supervisors required that the company prepare a full environmental impact report on the reservoir plan.
"Water is politics, and water is money," Jaffe said. "It's more of a water grab than trying to set up a frost protection system."
Fast-forward to this March 29, when Brodiaea presented its project to the county Planning Commission with a favorable environmental report in hand and a staff recommendation for approval.
"Frost ponds [are] the most commonly used method of frost protection for vineyards statewide, especially for vineyards this size," Brian Tetley, a land-use agent for Brodiaea, told the commission. "We've already lost vineyards due to frost because we have not been able to install them as originally proposed."
But in emotional oral comments and letters to the county Planning Commission, several dozen farmers, ranchers, valley residents, community leaders, Harvard students, UC Davis students, and UCSB professors voiced their strong opposition to Brodiaea's reservoir project, saying that it ran counter to the community's efforts to conserve water and that Harvard, in its quest for profits, didn't seem to care.
Planting hundreds of acres of grapes that require lots of water and are not frost-tolerant "sounds like a bad idea to me," Dano Pagenkopf, a UCSB chemical engineer and a valley landowner, wrote to the commission, "but maybe they have some other plans like selling precious, clean water to other nearby corporations, like carrot growers."
In the end, the community prevailed. Three commissioners said the reservoirs would worsen the already severe groundwater overdraft in the region, even as the state was trying to reverse the trend. It was the first time the commission had discussed the state's Sustainable Groundwater Management Act in connection with a land-use permit.
Casey Walsh, a UCSB anthropologist who studies the social use and management of groundwater and spoke against the reservoir project on March 29, said the state law "contradicts the idea that groundwater is each person's private property."
"It makes people come together, and that's a good thing," Walsh said. "That's why this decision of the Planning Commission is powerful. The planners saw that not only were there a bunch of neighbors out there, trying to do the best for the county, but they themselves could see those arguments about what was best. Continuing to approve the extraction of groundwater and chasing that dream of riches is not sustainable."
'Absolutely Ridiculous'
Harvard's vineyard is located at the western end of the Cuyama Valley, south of Highway 166 and the Cuyama River. Brodiaea proposed to build three reservoirs for the existing overhead spray system and keep them full during the months of February, March, and April for frost protection. | Credit: Courtesy
The overhead spray system at Harvard's vineyard is designed to form a layer of ice on the plants and protect new leaf buds on the vines from curling up and turning black in a frost. Brodiaea proposed to keep the reservoirs full during February, March, and April and maintain a maximum of three feet of water in them between May 1 and January 31.
To stay within with the county's 1992 "threshold of significance" for groundwater use in new projects in the valley, Brodiaea proposed to limit its groundwater pumping for the reservoirs. The company also would be required to cover the reservoirs to reduce water loss to evaporation.
But a string of farmers and ranchers told the commission they were having to change crops, change irrigation systems, fallow land, and sell cattle to save water — so why, they asked, should Brodiaea be allowed to fill up three reservoirs? The county's "threshold of significance" for groundwater use was outdated, they said, and who would enforce it anyway?
"This project is absolutely ludicrous," wrote Jacob Furstenfeld, adding that as a member of the advisory committee to the Cuyama Groundwater Sustainability Agency, he had spent "countless hours looking at hydrographs" and "listening to all these expert consultants tell us that we need to cut back on our groundwater pumping…. Yet this project would allow much more pumping than necessary." "We've always watched and counted every inch of rain," Furstenfeld wrote. "We've looked at our wells in the fall and then again in the spring."
Pamela Doiron, owner of the Spanish Ranch, an original land grant cattle operation in New Cuyama, also urged a "no" vote, saying, "We're looking at every way possible to reduce our water, and we're running out of options."
These opponents were joined by a group of Harvard students and alumnae who weighed in on Zoom during the March 29 hearing, saying that the university had a track record of deforestation, workers' rights violations, and harmful pesticide use in its investment projects around the world.
"There are deep contradictions between the Harvard school being at the leading edge of sustainability and climate justice even as it threatens local residents and farmers," said Kelsey Ichikawa, a Harvard graduate and researcher. "Give more power to the constituents you serve."
Dropping Well Water Levels
Jaffe was the first of those constituents to speak. She presented records from a North Fork monitoring well that provides data to the Cuyama Basin Groundwater Sustainability Agency, showing that the water level had dropped 76 feet — from 30 feet underground to more than 100 feet underground — since Brodiaea installed its vineyard six years ago. (Agents for Brodiaea said other wells on the property did not experience as much drawdown.)
Jaffe also displayed photos she said she had taken from the North Fork fence line during a hard frost last April, purportedly showing that a section of grapevines protected by wind machines fared better than a section that had received only overhead spray.
Wind machines are designed to bring warmer air down from above, but Ray Shady, managing director of Grapevine Capital Partners in San Luis Obispo, an agent for Brodiaea, told the commission that the layer of air available to the wind machines at North Fork was too uniformly cold to provide a good mix.
"We do rent wind machines and have found it doesn't work throughout the season," Shady said. "You don't get the whole story, looking at the fence line. We have seen death of emerging buds and also vine death. In some parts of the vineyard, we've gone through extensive replanting."
The Santa Barbara County Farm Bureau supported Brodiaea's plan, noting in a letter to the commission that frost protection ponds "have historically been an integral part of irrigated agriculture here.… They help maximize the farmers' ability to manage the water they legally have access to."
Representatives for Brodiaea did not respond to a reporter's request for comment this week. A spokesperson for the Harvard Management Co. sent an email stating, "HMC does not comment on individual investments."
'Doesn't Make the Grade'
Commissioner Michael Cooney, whose district includes the Cuyama Valley, began the panel's discussion at the March 29 hearing by calling the reservoir project "a neat mess." He called the county's 1992 "threshold of significance" for new water projects "a fuzzy science, if it's a science at all."
"This project doesn't make the grade," Cooney said, adding that he had been persuaded by the comments of local ranchers, not Harvard students.
"My resolution is not to decide emotionally whether there is a land grab going on by one of our nation's most revered institutions," Cooney said, but rather to "listen to those who are directly impacted … people who live the agriculture of the Cuyama Valley."
Commission Chair John Parke of Solvang objected to Brodiaea's plan to remove native grasslands for one of the reservoirs. He said the environmental report failed to adequately explore the use of wind machines as an alternative to protect the grapes from frost.
Commissioner Laura Bridley of Santa Barbara said she normally didn't like to "get in the business of agriculture" but could not support the reservoirs because state law "may downgrade the amount of water" for the project.
Finally, Cooney, Parke, and Bridley said they could not make the necessary findings that the project would not worsen the groundwater basin overdraft in the valley or "be detrimental" to the "general welfare, health, and safety of the neighborhood."
Commissioner Larry Ferini, who farms berries and vegetable crops in the Santa Maria Valley, supported the project, saying that the basin underlying the Cuyama Valley was "not all one big basin." He questioned the county's jurisdiction to regulate storage reservoirs for grapes.
"It is a waste of a resource to put restrictions on how the grower uses the water," Ferini said.
Ferini joined the commission majority in voting 4-0 to postpone a vote on the reservoir project until May 10 to give the planning staff time to draw up the necessary findings for denial. (Commission Vice Chair Vincent Martinez of Santa Maria recused himself because of a potential conflict of interest; he represents landowners involved in a water rights lawsuit in the valley.)
"The community and I were very pleased with the outcome," Jaffe said. "It was one that really took the public voices into consideration. This was a common fight, a common passion for pretty much everybody out here."