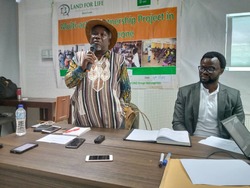 The national convener of Land for Life at the
press conference
(Photo courtesy of Concord Times)
Concord Times | 24 May 2022

CSO calls on govt.to intervene in Malen, Socfin land dispute
By Ibrahim Kabba Turay
Land for Life Initiative, a civil society organization that advocates land rights, has issued a press statement calling on government to intervene and settle the land dispute between members of the Malen Affected Land Owners Association (MALOA) and Socfin Agricultural Company (SAC).
The civil society organization noted that based on several discussions held with Partners Initiative for Conflict Transformation (PICOT) and stakeholders within Malen with regards the District Multi-stakeholders Platform (DMSP) report, the issue at Malen was a serious transparency and accountability issue in the redistribution of the lease fee paid by SAC, and the money that was supposed to come directly to the land-owners, as best practice demands, was instead paid in cash to the Malen Chiefdom Council.
They noted that majority of the land-owners have no idea about how the calculations were done and whether the money paid was accurately proportionate to the amount of land leased out to SAC.
They said the amount of money paid to the land owners is very small and sometime delayed or entirely not reach some people.
Land of Life also stated that they discovered that Malen was a serious conflicting political interest and that they have analysed that the staunch alignment of Honourable Shiaka Sama with his MALOA goes in the interest of solidifying his political position in the chiefdom.
They recommended that the RSPO takes a second step to re-engage the membership of MALOA, to better understand their grievance and to determine what further action SAC should take to address those concerns.
They also recommended that the government of Sierra Leone should take responsibility for all the unfortunate situations surrounding the investment of SAC, including the dissatisfaction of MALOA members and to take transparent affirmative actions towards a sustainable peace in Malen Chiefdom.
They further recommended that the Pujehun DMSP re-engage where possible, with the secretariat in attendance, to evaluate the action of the DMSP, identify the mistakes that led to the situation of the DMSP undertaking an action without a proper plan and a logical analysis of the circumstance to inform it position, and to serve as corrective measures for the future.
Land for Life called on SAC to make deliberate effort to review the land lease payment methodology by first verifying the beneficiary list and then open bank account for each verified landowner.
Land for Life Initiative aims to contribute to the formulation and implementation of policies on land governance and agricultural investments that are consistent with international standards and in particular the human right to adequate food.