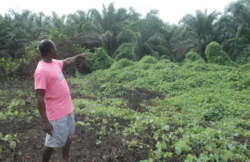 Kandakai Blasuah, who lost his sister's grave to Sime Darby, points to where it stood before the company illegally cleared it in 2010. (Photo: The DayLight/Varney Kamara)
Daily Observer | 21 March 2022
Liberia: Villagers struggle to honor the dead after losing graveyards to investors
By James Harding Giahyue, Varney Kamara, and Gabriel Dixon, with The DayLight
It is early morning and Pastor William Binda and two other villagers offer prayer in a short memorial ceremony at the St. John Lutheran Church in Qua-ta.
This is how Binda and many people in this small village in the Salala District of Bong, and their neighbors in Margibi have observed Decoration Day since they say Salala Rubber Corporation (SRC) cleared several villages and their graveyards for the expansion of its plantation in 2010. Binda's grandfather, Dugba Flomo, had been buried in a village called Dede-Ta One, but his grave was demolished with a horde of others, their debris dumped in a nearby creek, locals tell The DayLight.

"I feel bad. No way to even go there to decorate," Binda says in an interview following the short ceremony. "They have [a] rubber farm there. They brushed the whole place, we just pray for our parents [whose graves we lost] for their souls to rest in peace."

In 2019, Binda and other villagers lodged a complaint with the International Finance Corporation (IFC), which in 2008 invested US$10 million in SRC to rehabilitate its facilities and expand its plantation. They accused SRC of several counts of human rights abuses, including land-grab, water pollution, and destruction of ancestral graves and shrines, which contravene IFC's own standards. SRC denies clearing graveyards and planting rubber on them. The company told the IFC the land it cleared was part of 100,000 hectares it leased from the Liberian government in 1959, and that it supported the communities to perform cleansing rituals. The IFC is still investigating the matter.
The situation in Salala is a constant feature of Liberia's concessional history. Beginning with Firestone in 1926, Liberia has leased over a million hectares of land to rubber and oil palm investors. It depends heavily on money generated from agriculture, with the sector contributing US$26,009,261 or 32.66 percent of total revenue in the 2018/19 fiscal year, according to the latest report by the Liberia Extractive Industries Transparency Initiative (LEITI). Rural people, who had lived on the land even before the country got its independence in 1847, did not participate in the concession-awarding processes. This also happened in Grand Cape Mount, Sinoe and Grand Bassa with Sime Darby, Golden Veroleum Liberia (GVL) and Equatorial Palm Oil (EPO), respectively—just to name a few.
Because of that, many rural communities affected by these agricultural concessions—like the one Binda lives in—have seen their ancestral gravesites leveled in some of the worst land-grabs in human history. The Liberian Legislature had set aside the second Wednesday in March each year to honor the dead, which goes in line with the customs and traditions of rural people. This has left villagers in concession communities across the country with no graves to decorate—the most relevant part of this 104-year tradition—creating an atmosphere of sadness and anger.
"I am feeling bad on this day because others are cleaning their relatives' graves but I don't have any grave to [decorate] on this day," says Kandakai Blasuah, a 46-year-old father of four in Ballah Town, Grand Cape Mount County, whose sister's grave was demolished by Sime Darby in 2010. That was a year after the company signed a 63-year US$800 million agreement with the Liberian government to develop oil palm and rubber on 220,000 hectares of land in Bomi, Cape Mount, and Gbarpolu Counties.
"On this day, I remember we used to cook food and bring it to the site for everyone to eat. Some people would be brushing around the grave, while others are cleaning and clearing the dirt. After that, we would all sit and joke about the good old days with the deceased," Blasuah adds.
The communities in Cape Mount got justice for the destruction of their ancestral burial places, sacred sites, and shrines. In 2011, the communities affected by the land-grab filed a complaint with the Roundtable on Sustainable Palm Oil (RSPO), the global watchdog for the oil palm industry. RSPO prohibits its member-companies such as Sime Darby, EPO, and GVL from acquiring lands, among other things, without local communities' free, prior and informed consent (FPIC). In 2015, it ordered the Malaysian company to pay US$1 million. Four years later, Sime Darby left Liberia, turning over the concession to Mano Palm Oil Industries Limited, which must continue the payment up to 2069.
The situation in Grand Cape Mount County involving Sime Darby might be slightly different from the one in Grand Bassa County with EPO. However, in both instances, local communities lost graves to the investors.
In 2008, EPO signed an agreement with the Liberian government to lease 169,000 hectares of land in Grand Bassa, River Cess, and Sinoe. The agreement was a takeover and extension of a 1965 deal between the country and LIBINC Oil Palm Inc. In a bid to replant its plantation, the new deal saw EPO clear farms and graves, locals say. Some of the graves were restored but some were not, including those of the parents of Luke Paye Toe, a community leader in the Jogbahn Clan.
"I felt discouraged that I can't see my parents' graves again," he tells The DayLight, pointing to a spot on the ground blanketed by palm trees, with sunlight piercing through their upright V-shaped leaves. "Sometimes if (when) I dream about them they tell me 'We are in the darkness. We are in the bush. What are you people waiting for?'" Toe and other villagers say they will file a complaint with the RSPO.
EPO denies any wrongdoing, telling The DayLight last year the area's locals speak of fall within its concession. Toe and other villagers say they will file a complaint with the RSPO.
'Spiritual Divorce'
The emotions Toe shows are common in rural communities with that problem, as villagers in the three counties The DayLight interviewed expressed the same concerns.
Losing the grave of a loved one can have long-term effects on rural people given the role the dead play in their lives, and recovery takes more than damage payments, according to experts.
"It is painfully devastating. The dead are believed to still be around providing protection, guidance, consultations, and other forms of support to the family," says Rev. Dr. Jerry Kulah, I, dean of the Bishop John G. Innis Graduate School of Theology at the United Methodist University in Monrovia. "They demonstrate this by prayers that are often offered to the dead at the time of their burial, and the occasional visits to gravesites to seek guidance, etc.
"For some rural community dwellers, the destruction of relatives' graves symbolizes a spiritual divorce from their ancestors. The land on which they are buried belongs to them as well as to the living (current stewards of the land) and the unborn who shall be inheritors in the future," says Dr. Kulah, adding it would take a reburial or a memorial to appease the spirit of the dead.
Dr. Emmanuel Urey, a land rights expert and the lead character of The Land Beneath Our Feet, an intriguing documentary depicting the 1926 Firestone land-grab, agrees with Dr. Kulah and calls on the government and investors to recognize rural communities are attached to the spirit of their ancestors. He urges actors in the agriculture sector to protect rural communities' belief systems. He recommends innovative approaches such as surveying and mapping all ancestral graveyards, sacred places and shrines to prevent future problems.
"If the development experts could just take into consideration, the damage they cause by destroying and desecrating burial grounds, they would have a different approach to development," Dr. Urey tells The DayLight in an interview.
"It is important for local knowledge to form part of the development. Don't just design the development in Monrovia, in Europe and other places. Actually, go and speak with the people who have inhabited the land for a very long time, they will be able to guide you on how to carry out the development so that it does not negatively impact their lives," adds Dr. Urey.
On paper, Liberia has an impressive array of laws and has signed on to international best practices that guarantee rural communities' right to their land and cultural practices. Some date as far back as the 1960s. The Public Lands Law of 1956 gave traditional chiefs and elders a right to participate in land-lease agreements. The United Nations Guiding Principles on Business and Human Rights, the Human Rights, the International Covenant on Economic, Social and Cultural Rights, the United Nations Declaration on the Rights of Indigenous People, and the African Charter on Human and People's Rights all provide culture as a basic human right.
The Environmental Protection and Management Law of Liberia mandates the participation of local communities affected by concessions. The most monumental of all land and culture-related laws is the Land Rights Act of 2018, which gives customary areas ownership of their ancestral land. These are also consistent with the RSPO's principles and criteria, which provide for the involvement of locals in the demarcation of their territories from that of plantations.
Efforts to get comments from the Ministry of Agriculture and the Bureau of Concessions did not materialize. We visited the offices of both institutions twice last week but officials we met there said they could not speak on the matter. We will update the story on our website once we speak to them.
Campaigners say the history of concessions in Liberia shows laws and standards are not enough to protect rural people and their traditions.
"The government should give urgent priority to the implementation of Land Rights Act (LRA)," says Simpson Snoh, an advocate with the Alliance for Rural Democracy, which, alongside other nongovernmental organizations, lodged the complaint against SRC on behalf of villagers in Salala. Snoh says communities that have lost ancestral graveyards must be paid reparations and their ownership of their land recognized henceforth by all players in the agriculture industry.
A native of Tarjuwon, Sinoe County, Snoh is himself a victim of land-grab. A 2018 RSPO report did not find the company cleared graveyards but established it wiped out sacred sites, revered by locals for generations. The Indonesian company had signed the concession agreement with the Liberian government to grow palm on 350,000 hectares of land in the country's southeast in 2010 for 65 years. The RSPO ordered GVL to remap its boundaries with affected places, negotiate a compensation deal with villagers and stop work in disputed areas. Following the ruling, GVL stormed out of the international certification scheme, only to see its move rejected. Snoh and other victims are still pursuing their case against the company, four years on.
Villagers we interviewed in Grand Bassa and Bong are seeking redress, too.
In Salala, Binda hopes he and other townspeople win the case against SRC the IFC is investigating, and receive damages for the graveyards the company allegedly cleared.
"They should remove their rubber from our land," Binda says. "They should pay us for [clearing] our people's grave."
Others want their land returned.
"I want the spot back to do decoration," says Emmanuel Kpaingbah, an elder Qua-ta, who lost his relatives' grave. His late uncle Dede was a traditional healer, famed for curing snakebites. "Money will not do that."
"Let them gave our land back to us," says Joseph Nelson, the town chief of Ballah Town in Cape Mount who lost his grandparents' graves. "The new gravesite they identified for us is too small [and] the graves will soon enter the town.
"We are doing this for our future generation."