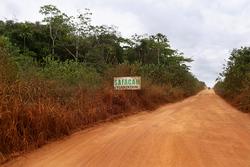 Business in Cameroon | 06 December 2019
Cameroon: Safacam plans to invest XAF3.5 bln to extend its oil palm and hevea plantations in Dizangué
(Business in Cameroon) - In Cameroon, the Ministry of State's Property and Land Tenure recently granted an additional 2,000 hectares of land to Société Africaine forestière et Agricole du Cameroun (Safacam), subsidiary of Luxembourg-based Société financière des caoutchoucs (Socfin) that was formerly listed on Douala stock exchange.
According to Safacam's managers, these additional lands will be used to expand oil palm and rubber plantations in Dizangué district, in the Littoral region.
According to the same sources, about XAF3.5 billion will be invested in these plantation extension projects, including nearly XAF2 billion in the rubber branch. In concrete terms, the 400 hectares will be used to extend oil palm plantations and significantly boost the production of nuts, palm kernel, and palm oil.
Safacam's managers indicate that these expansion projects will generate around 300 additional jobs in this agro-industrial unit, which ended 2018 with a net result of XAF571 million, down nearly 50% from the XAF1.8 billion it earned in 2017.
However, this performance picked up again in Q1 2019 since the company ended the first three months of 2019 with a net result of XAF1.36 billion, which is 27% increase compared with the XAF1.07 billion achieved during the same period in 2018.
Brice R. Mbodiam