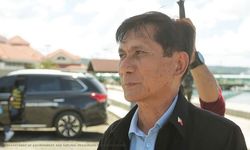 Environment Secretary Roy Cimatu
CNN | 15 November 2019
Environment chief sued for allowing 'illegal' operation of coffee plantation

By CNN Philippines Staff
Metro Manila (CNN Philippines, November 15) — An indigenous people's group on Friday filed a case against Environment Secretary Roy Cimatu for neglect of duty, saying he did not block the "illegal" operation of a coffee plantation in ancestral land.
The complaint has been filed at the Quezon City Regional Trial Court. The T'boli-Manobo S'daf Claimants Organization (TAMASCO) accused Cimatu of violating the Indigenous People's Rights Act, which requires the approval of the community for any activity in their ancestral domain.
The TAMASCO legal counsel, Legal Rights and Natural Resources Center, said the Dawang Coffee Plantation has encroached on TAMASCO's land in South Cotabato and Sultan Kudarat, authorized by the government through an Integrated Forest Management Agreement (IFMA).
The IFMA document had expired in 2016, and was renewed by the Department of Environment and Natural Resources (DENR) without the free, prior, and informed consent of the indigenous people, the lawyers said. They urged the court to compel DENR to reverse its decision.
"We urge DENR Secretary Roy Cimatu to perform his legal government obligation and cancel the agreement that allows M&S Company to operate in our ancestral domain. For indigenous people, land is life. For 28 years, we have not been able to farm and make a living because of the plantation. This is unfair, unjust, and undemocratic," Datu Dande Danyan, chairman of TAMASCO, said in a statement.
CNN Philippines has reached out to DENR for comment.
Eight members of TAMASCO, including their leader, were killed in a military operation against rebels in 2017. International human rights and environment watchdog Global Witness said the massacre was connected to the land struggle.