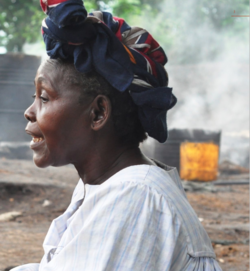 Fern | 31 July 2018 [
FR
]
The village women taking on the palm oil giant
The Société Financière des Caoutchoucs (Socfin) group is one of the world's biggest independent plantation owners, managing 187,000 hectares of mostly oil palm and rubber plantations in Africa and Asia. Its largest shareholders are Belgian businessman Hubert Fabri and the Bolloré group, run by French billionaire industrialist Vincent Bolloré.
Over the past few years, Socfin's Cameroonian subsidiary Socapalm has been at the centre of a bitter land rights struggle with the local people who claim that the company is expanding its plantations on their land, and - among other things - preventing them from benefitting from their own palm oil.
Socapalm has said that their crackdown on villagers' small-scale oil palm operations is in response to theft of fruit from their plantations.
In response to these and other controversies, Socfin has adopted measures aimed at respecting human rights and following strict environmental standards, including working with TFT, the transparency supply chain organisation, and getting its palm oil certified by the Roundtable on Sustainable Palm Oil (RSPO).
But is change filtering through on the ground yet?
Award-winning Cameroonian journalist Madeleine Ngeunga and Fern's Indra Van Gisbergen recently visited villages in the shadow of Socapalm's oil palm plantations to see if the issues driving the dispute between locals and the company are being resolved.
Their findings offer a vivid snapshot of life there and raise disturbing questions for Socapalm, revealing that the chasm between many locals and the company appears no closer to being bridged.