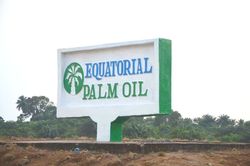 Business and Human Rights | 11 November 2017
Liberia: EPO releases executive summary of the findings of the company's Human Rights Impact Assessment
by Anna Triponel, Triponel Consulting Ltd. (New York) on behalf of EPO


This is the executive summary of a report titled "Assessing Human Rights Impacts at EPO's Liberian Operations" delivered by Triponel Consulting Ltd to Equatorial Palm Oil plc on July 26, 2017

Recently, the Company has received scrutiny from nonprofit research and policy organisation, Nomogaia. In particular, Nomogaia highlighted a range of issues at the Company's Palm Bay estate, including issues related to just remuneration, safe working conditions and the right to collective bargaining

The resulting report captures the key findings from this HRIA work. [Below are some of the high priority impacts presented]:

Contractor wages and employment status: The number of contractors at Palm Bay and Butaw is high, with the April 2017 figures providing an estimate of 46.5% of contractors (577 contractors to 664 employees). There is a disparity in remuneration and benefits between contractor workers and employees...
Accidents on the estates due to holes on the ground: Workers at both Palm Bay and Butaw reported a number of accidents on the estates due to falling in holes while conducting their daily duties...
Accidents on the estates due to chemical usage: Several employees reported that personal protective equipment ("PPE") is not systematically worn. Contractors remarked that, with the exception of spraying, it is up to the contractor firms to purchase and provide PPE to their workers...
Impact of use of land on communities: The Company has a range of strong policies and processes in place to seek FPIC for its land development work and has placed a strong emphasis on its work with communities
Employee housing conditions:...Issues of privacy were raised by trade union leaders and workers...
See full report here