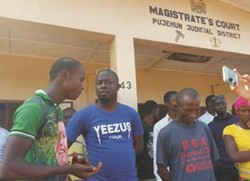 Freed lands right activists in Pujehun
Awoko | 27 June 2017
Sierra Leone News: Pujehun land rights activists freed
By Saidu Bah
Four land rights activists were freed on Friday 23 June 2017, from the custody of Pujehun Correctional Centre after legal representation were made for them at the Pujehun Magistrates Court.
The four activists are Munda Sannoh, Joseph Ganda, Brima Momoh, and Abdul Karim Mansary. The four accused persons are executive members of Youth Affected by Socfin Agricultural Company (YASAC).
The first two activists, Brima Momoh and Abdul Karim Mansary, were charged with assembly contrary to law, without permission to assembly.
Lawyer representing the two accused, Emmanuel Saffa Abdulai, raised an objection that there is no offense of the nature, which states Assembly contrary to law. He said Assembly offences are statutory and the statute must be specifically stated on the charge sheet. According to him, Sections 51 of the Criminal Procedure Act is relied on and the Civil Procedure Rules on information on clarity and specificity which the information before the Court violates.
The Magistrates agreed with defence counsel, Saffa Abdulai, and discharged the matter with the two accused walking out of court to the cheers of their family members.
The other two accused, Munda Sannoh and Joseph Ganda, were charged with sending a threatening letter contrary to Section 3(i) of the Public Order Act. The second charge is Writing Threatening Letters to SOCFIN management contrary to Section 4(i) of the Public Order Act.
Lawyer Emmanuel Saffa Abdulai raised another preliminary objection that there is no offence like writing threatening letters contrary to Section 4(1). He says the charge is bad in law. He explained that the said Section 4(1) speaks to a very different offence.
The Magistrates said he picked it up at the first hearing, which the Police prosecution conceded to. Magistrate Bangura discharged the two accused persons on the second charge.
The two accused persons pleaded guilty, on advise of their lawyer, to the first count charge.
Lawyer Saffa Abdulai in his plea for mitigation said the accused were first time offenders. He said their letter is a legitimate labour rights concern to SOCFIN and must be viewed as such.
He said there are words in the letter that may connote threats, but added that English is not the first language of the two accused persons. They may have meant no harm but were unable to express themselves in the proper manner. He asked the Court to temper justice with mercy and to impose reasonable fines rather than custodial sentence.
The magistrate sentenced the two to two months in prison or pay a fine of Le150,000 each.
Realizing the family cannot afford the fines, Lawyer Emmanuel Saffa Abdulai Esq. paid the fines for the accused and they were released immediately.