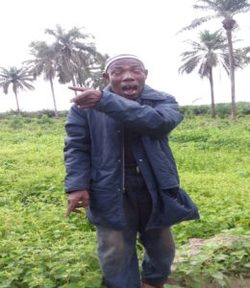 MAYODU's chairman, Chief Mustapha Fofana of Jombolon Malen village
Sierra Leone Concord Times | 19 June 2017
As 21-day ultimatum for SOCFIN Manager elapse…
Trouble looms in Malen chiefdom
By Joseph S. Margai
Failure on the part of the General Manager of SOCFIN Agricultural Company, Philip Tonks, to address concerns raised by aggrieved land owners and workers of Sahn Malen Chiefdom, after the elapse of a 21-day ultimatum, reliable sources in the chiefdom have stated that the chiefdom would experience chaos in the not too distant future.
Sahn Malen chiefdom is situated in Pujehun district, southern Sierra Leone, where about 12.5 hectares approximately 30,000 acres of land have been taken away from people by SOCFIN Agricultural Company for oil palm plantation. Prior to the advent of the company, farming was the predominant occupation of residents but all their arable lands have been utilized by the company, leaving them with only wetlands (swamps) to farm.
Stakeholders of the chiefdom, on 20th May, 2017, issued a 21-day ultimatum, demanding that the General Manager of the company, Philip Tonks and his Plantation Manager, Gordon Paterson, must go because they have 'refused' to address their numerous concerns.
On Monday, 22nd May, 2017, stakeholders, through the Malen Youth Development Union (MAYODU), ordered all labourers of the company to down tool.
MAYODU's concerns include 'tedious' task given to labourers to be accomplished per day, withdrawal of transport system by the company's officials, failure to provide water and sanitation (WATSAN) facilities in every village, solar lights for children to study at night, construction of court barrays, and repairing of roads. Also, the company's failure to plough and cultivate available wetlands (swamps) for them, the small amount paid as surface rent, among others.
MAYODU's Chairman, Mustapha Fofana, who also doubles as town chief of Jombolon Malen, in a mobile phone interview with this medium, said the 21-day ultimatum has elapsed.
"Exactly 24 days after the ultimatum was issued to the company officials, the General Manager has only engaged MAYODU once and agreed to address some of our problems mentioned in our letter dated 20th May, 2017," Chief Fofana said.
He disclosed that they have prepared an agreement document which the paramount chief has signed while the General Manager also pledged to sign it if his Country Manager, who is currently out of the country, signs it. He added that the agreement document entails lots of their concerns, which the General Manager has pledged to address.
"Upon his arrival, if he fails to sign that document, there will be unimaginable consequences. But he has agreed to address our concerns," he said.
Chief Fofana disclosed that at the moment, even though few people are working, majority of workers have stopped working on the oil palm plantation until the General Manager addresses concerns raised in MAYODU's letter, dated 20th May, 2017.
He said delay on the side of the company's officials has led to the cultivation period of swamps to delay without doing much on it, noting that they only cultivated a very small portion of wetlands for them, which is not enough.