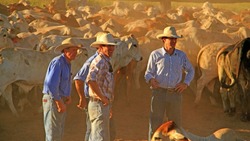 'We believe in the long-term fundamentals of the beef industry': Hewitt Cattle Company chief executive Mick Hewitt, right, with founder Colin Hewitt, left, and chief operating officer Ben Hewitt. (Photo: Russell Hughes)
Australian Financial Review | 16 May 2016
Australia's $1 billion beef boom funded by foreign investment and super
by Matthew Cranston
Australia's cattle station sector is set to reach more than $1 billion-worth of deals in less than a year, with the two biggest sources of investment being the controversial areas of foreign investment and superannuation.
In the last fortnight alone close to half a billion dollars-worth of deals have been sealed, including Macquarie Group's Paraway Pastoral Company buying two Western Grazing owned stations for what The Australian Financial Review can now reveal was $148 million.
The Queensland Investment Corporation also snapped up an 80 per cent interest in the North Australian Pastoral Company for more than $300 million.
Both deals included foreign investment or superannuation with the Macquarie-managed vehicle backed by Dutch pension fund Stichting Pensioenfonds ABP and QIC backed by the British-based Pension Protection Fund and the Queensland government's Long Term Asset Advisory Board. With superannuation funds being pressured to better examine opportunities in agriculture, where there is less than 0.3 superannuation fund exposure, the deal was highly significant.
Cattle are still achieving strong prices and the growing demand for protein out of Asia has not faltered. Other factors, such as the low correlation to the stock market have driven the demand for productive land.
Hewitt Cattle Australia, backed by one of Canada's largest pension funds, the Public Sector Pension Investment Board, has purchased close to $100 million-worth of cattle stations in less than 12 months but the company has remained firm on pricing assets.
Hewitt Cattle Australia chief executive Mick Hewitt said care needed to be taken.
"We believe in the long-term fundamentals of the beef industry," Mr Hewitt said. "However, in this environment we will remain very focused in terms of evaluating cattle station assets."
Land grabbed
Sydney-based Gunn Agri Partners, also backed by foreign investment, has snapped up about $60 million-worth of stations. In February it bought Esmeralda Station in central Queensland, which had been listed for auction for $40 million. 
Rifa Salutary, the Australian arm of China's Zhejiang Rifa Holding Group, has also recently purchased close to $50 million-worth of farms in NSW and is looking to expand further. Others such as Shangahi CRED have also acquired cattle stations in Western Australia but prices have not been disclosed.
The market was sparked in December last year by retail billionaire Brett Blundy's purchase of Paraway's Walhallow Station for more than $100 million.
However, most attention has focused on the controversial bid by Chinese consortium Dakang to buy Australia's largest land holder S.Kidman & Co for $371 million.
It was a deal that was agreed to by both the vendor and the buyer but spurned by Federal Treasurer Scott Morrison.
Industry participants, such as CBRE's head of agribusiness Danny Thomas, have warned that too much government interference could be detrimental to further transactional activity.
"The announcement has serious implications for the market," Mr Thomas said. "If the government starts dabbling in how large property portfolios are sold, saying they may need to be cut up, then that could be very damaging for values."
However, large portfolios have been sold before and then subsequently cut up and sold off for even higher prices. AMP's Stanbroke was purchased early last decade in one line and then split, yielding a much higher break-up value.
Thynne + Macartney lawyer Bill Loughnan said the value of S.Kidman & Co would probably be higher than $370 million.
"In the overall scheme of things to buy that much of Australia at $370 million you would have to think it's worth more broken up," Mr Loughnan said.
"But if that was the case why haven't the Kidmans done that already?"