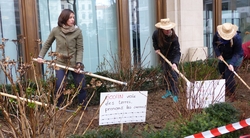 Last week, dozens of citizens and representatives of several Belgian NGOs occupied the headquarters of Belgian-Luxembourgish group Socfin with a rake or spade in their hand.
VILT | 01.03.2016 [
NL
]
Translated from the original by GRAIN
"Socfin has never been guilty of land grabbing"
Socfin has never been guilty of land grabbing. So says the chairman of Socfin's board of directors, Luc Boedt, in a response to the occupation of the company's headquarters by several Belgian NGOs.
"In many cases, we buy up old state-owned businesses that we modernise and in other cases the farmer is free to choose whether they want to cooperate or not." The accusations made by Greenpeace that Socfin has been flouting the zero forestation policy, are also unfounded, states Boedt.
Last week, dozens of citizens and representatives of several Belgian NGOs occupied the headquarters of Belgian-Luxembourgish group Socfin with a rake or spade in their hand. With this protest, they aimed to voice their discontent about the "aggressive expansion policy that Socfin is executing globally". An expansion that, according to the NGOs, is at the cost of local communities and small-scale farming.
They are accusing Socfin of land grabbing. "Nothing could be further from the truth," claims Socfin, an agro-industrial company specialised in cultivating palm oil and rubber plantations. "We have never used land grabbing. Read our concession agreements or look at the satellite images of the areas under our control," Luc Boedt states. According to him, Belgian NGOs are blindly following their French colleagues, who started a witch-hunt against the Bolloré group, one of Socfin's stakeholders. "But they haven´t even made the effort to investigate Socfin's situation," Boedt claims.
He cites Socfin's activities in Sierra Leone as an example. "That country urgently needs its own agricultural production. More than 50 percent of vegetable oil is being imported, at a price higher than the European one. But their soil is completely exhausted and the growing population won't allow for the application of crop rotation," Boedt describes the situation in the country. After three years of negotiations with the farmers, land owners and local authorities, Socfin has come to an agreement on the exploitation of the land. "All the farmers were free to choose whether or not to get on board with the project. The fact that large parts of the concession are not cultivated, which is visible on the satellite images, proves this."
According to Socfin, they have been modernising the agricultural practices and infrastructure. "By now, there are countless factors that show the way we work is benefitting local farmers. Surrounding communities want to join our project because they realise that working for Socfin produces 20 times more than working on exhausted soil. Every village has also received a large indemnified zone to use for food production. Additionally, Socfin has established schools, clinics and a small hospital in the area," Boedt explains. He also emphasises that sensitisation of the population has also led to Ebola not being able to manifest in the area. In Ivory Coast, Cameroon or Nigeria the company ran a different course. There, old state-owned business were bought after completely or gradually being privatised. The grounds are still property of the state and agreements about its exploitation between the government and local farmers date back to 60 or 70 years ago. Here, too, Socfin modernised the agricultural practices. "So it is an outright lie that we are hurting the local people in their vital needs," Luc Boedt angrily responds to the NGOs allegations.
Greenpeace's claim that Socfin is deforesting its agricultural areas is also untrue, according to Boedt. "The fact that Greenpeace has a zero deforestation policy is laudatory but they do not have exclusive ownership of such a policy. IUCN, FAO and IFC also have one, and we have chosen to work with them. Greenpeace calling us a threat is incorrect. Moreover, in the past, we have taken action multiple times to make sure that primary forest resources remain protected. We do not need Greenpeace for this," he sounds off angrily.
Luc Boedt is therefore angry about this attack by Belgian NGOs such as FIAN, 11.11.11, SOS Faim, Oxfam Solidarity and many others. "I am so fed up with these so-called do-gooders spreading one lie after the other about us, with the sole objective of receiving more money."
"Socfin has built more schools in Africa than all of those NGOs combined," he responds on behalf of Socfin.