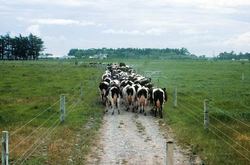 Scoop | 31 August 2015
More land goes into foreign hands for dairying
Press Release: New Zealand First Party
European interests extending their dairy holdings in New Zealand are among the latest land sale approvals for foreign buyers, says New Zealand First.
"As the Prime Minister pulls percentages out of nowhere to claim there is little foreign ownership, the sales are ticked off month by month," says New Zealand First Leader and Member of Parliament for Northland Rt Hon Winston Peters.
"Last year the PM said it was 2% foreign ownership, now he's saying 5%. He'll say anything to neutralise those who know sales are climbing rapidly. More than a million hectares have been lost of New Zealand ownership under this National government.
"Swedish and Luxembourg interests are the latest to win approval to buy from the Overseas Investment Office. They will take over a 306-hectare family farm at Hororata, Canterbury, to convert from sheep and beef grazing to dairy. This is not their first farm here - it will add to their "cluster" of farms.
"Last month the Overseas Investment Office approved a $10 million sale of a similar-sized property in Mayfield, Canterbury to investment interests from Switzerland, who will also convert the farm to dairying.
"These sales are supposed to be of substantive benefit to New Zealand, that is a claim which, hitherto, the government and its glove puppet, the OIO, have failed to back up. The OIO doesn't even make later checks on successful applicants to ensure they keep the commitments which got them the approval from the OIO in the first place.
"This is a continuing picture of a National Party sell-out of key assets in New Zealand's economy."