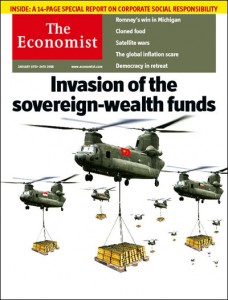 Asia Times | Sep 26, 2008
By Brian McCartan
CHIANG MAI - Once committed largely to perceived safe-haven investments in the United States, Gulf nations are now looking to send their petrodollar surpluses towards a more exotic global destination: Southeast Asian farmland.
Last month, two high-level Kuwaiti delegations toured Southeast Asia's food-producing countryside, looking to invest in agricultural lands and agro-business partnerships on a contract farming basis. Those visits came amid similar regional overtures from other Gulf states, including Saudi Arabia, Qatar and the United Arab Emirates (UAE).
Most of the deals are still in the negotiation stages and provisionally appear to involve leasing rather than outright purchasing of agricultural lands, where Gulf state companies pay to rent the land, provide inputs and contractually agree to buy the produce.
Such an arrangement would be similar to the contract farming deals China has recently cut across the region, including in Myanmar and Laos. It's unclear if the Gulf state-invested produce would be purchased at a fixed future rate or prevailing market prices, and what percentage would be paid to local farmers who actually work the lands.
What is clear is a pressing Middle Eastern need to shore up the region's shaky food security. The Gulf Research Center (GRC), a Dubai-based think-tank, in May highlighted the declining agricultural production by the Gulf Cooperation Council's (GCC) six member states and the wider region's increasing financial exposure to spiraling food prices.
A GRC report that month specifically called on the GCC nations - Bahrain, Kuwait, Oman, Qatar, Saudi Arabia and the UAE - to develop links with foreign countries with abundant arable land. Higher global food prices are a key contributor to escalating inflation in the Middle East, which suffers from a lack of fertile land and consistent water supplies.
The region's surging oil wealth is meanwhile attracting ever-larger influxes of immigrants, who are putting further strain on already import-intensive food supplies. The region's population could rise to 39 million in 2010, from 35 million in 2006, and surge to 58 million by 2030 if current demographic trends continue, the GRC forecast. The population of the six member countries was 30 million in 2000.
Gulf states already import between 60% and 90% of their food requirements, amounting to a total bill of US$10 billion per year. Saudi Arabia is the largest importer, followed closely by Kuwait and the UAE, according to the GRC. Meanwhile, world food prices surged to record highs earlier this year. Costs for cereals such as rice, the Gulf's main staple, have recently declined, but remain three times higher than the past decade's moving average. For example, the price of rice imported from India and Pakistan has risen by 70% on average.
The average price of food in Qatar rose 19% during the first three months of this year, more than three times the same period last year. Bahrain, Oman, Saudi Arabia and the UAE have all recorded similar increases.
Prices in Kuwait have not risen as high, mainly due to its lower reliance on the US dollar as a trading currency, but the oil-rich nation is firmly in search of greener pastures for its petrodollar investments.
The increasing expense of food imports along with rising housing costs have helped to drive inflation rates as high as 11% in April and May. Kuwaiti Commerce and Industry Minister Ahmad Baqer told parliament in June that the country should work with other Gulf states to invest in food production and agriculture to secure future food supplies.
In that direction, Kuwaiti Prime Minister Sheik Nasser al-Mohammed al-Ahmed al-Jaber al-Sabah made an eight-nation Asian tour in August with the chief aim of securing agriculture-related investments. The trip took in Brunei, Cambodia, Japan, Laos, Myanmar, the Philippines, South Korea and Thailand.
"The value of the accords and economic and commercial protocols are more then US$27 billion, with $3 to $4 billion of investments and possible commercial partnerships with each country," Kuwaiti Finance Minister Mustafa al-Shamali said in statements published on August 17.
A delegation led by Kuwati premier advisor, Ismael al-Shatti, returned in late August to visit Cambodia, Laos and Myanmar to activate agreements made during the premier's earlier visit. The delegation included representatives from the Kuwait Investment Agency (KIA), a sovereign wealth fund, as well as the Kuwait Fund for Economic Development, the Kuwait Petroleum Corporation and the Kuwait Flour Mills and Baker Co.
Cambodia seems to have been the biggest immediate benefactor from Kuwait's investment tour. Discussions during the Kuwaiti premier's visit included possibilities for technical assistance for oil exploration and a proposal to exchange agricultural technology for leasing an undisclosed large plot of land set aside to grow food specifically for export to Kuwait.
During the visit of the al-Shatti delegation on August 21, Kuwait announced it would provide Cambodia with more than $546 million in soft loans for a variety of infrastructure projects, largely in the agricultural sector.
Kuwait's move represents the second-largest loan by a single country to Cambodia, after China's contribution of $601 million last year, earmarked mainly for hydropower dams, bridges and new government offices.
Cambodian spokesman Sin Bunthoeun said US$486 million of the first Kuwaiti tranche will be used to build irrigation systems and a hydropower project on the Steung Ser River in central Kompong Thom province. The remaining $60 million will be used on road building projects in western Battambang province, he said.
In return, Kuwait received authorization to build an embassy in Phnom Penh, beginning next year, and Cambodian Prime Minister Hun Sen said he will travel to Kuwait, Qatar and the UAE in January to further discuss rice exports.
The Kuwaiti investments come conveniently while Cambodia seeks to establish itself as a major regional rice exporter. The foreign funds represent a large cash infusion for the country's otherwise stretched national coffers and through investments in irrigation infrastructure and modern rice mills will be crucial to continuing improvements in its backward and inefficient rice industry.
Total Cambodian rice production has grown to 6.7 million tonnes in 2007-08, with a surplus of 2.5 million tonnes. The government has said it aims to export 10 million tons per year by 2015. Whether it can reach that goal and still feed its impoverished local population at locally affordable prices is an open question. The deals with Kuwait raised eyebrows when a month later the Cambodian government requested a $38 million emergency food aid package from the Asia Development Bank (ADB).
Some question why this is necessary when the government has said it expects a slight harvest increase this year and is keeping to is rice-export plan. The ADB's country manager has recently called the food security situation in Cambodia "an unprecedented emergency". Cambodia's agriculture minister told the Phnom Penh Post earlier this month that the request to the ADB was only to safeguard against "sudden and unexpected shocks, such as those brought about by natural disaster".
Details of the Kuwaiti agreements signed with Laos, Myanmar and Thailand are apparently still at the discussion and fact-finding stage. During an August 5-6 visit, the Kuwaiti and Lao prime ministers agreed to pursue means to improve cooperation in energy and agriculture. Kuwait appears to be particularly interested in Laos' rice and palm oil sectors. Plans for the opening of a Kuwaiti embassy in Vientiane were also discussed.
Kuwait and Myanmar signed two agreements related to investment and economic and technical cooperation during the Kuwaiti premier's visit. The al-Shatti delegation also discussed a contract farming arrangement with Myanmar officials led by Prime Minister General Thein Sein during their follow-up late August visit.
U Tun Aung, president of the Myanmar Beans and Pulses Trader's Association, told Myanmar Times magazine that Kuwait "will provide the fertilizer and financial support, hiring Myanmar's land and human resources, and then in turn they will purchase the crops at world market prices. Paddy plantation and palm oil are the agriculture sectors they are most interested in."
Organic oil
The Kuwaiti government is not alone in looking towards Southeast Asia. The UAE-based al-Qudra Holding is reportedly exploring possibilities for rice production in Thailand, Vietnam and the Philippines. If accomplished, it would be part of the company's grand plan to acquire by the first quarter of 2009 400,000 hectares of land or cultivating wheat, maize, rice and vegetables in the Middle East, Asia, North Africa and East Africa. Qatar apparently has even more ambitious designs for Southeast Asian farmlands. Prime Minister Sheik Hamad bin Jassem bin Jabor al-Thani visited Cambodia this year to explore deals to exchange agricultural technology for access to arable land. The Qatari prime minister announced during his April visit plans to invest $200 million in Cambodian agriculture, strikingly similar to Kuwait's later bilateral overture. Even bigger Qatari investments are in store for Vietnam. Qatar and Vietnam have established a $1 billion investment fund of which a portion would be dedicated to agriculture, the Qatar-based Gulf Times reported on September 2. An estimated 90% of the fund's equity will be provided by the Qatar Investment Authority, a national sovereign wealth fund. There is, of course, a political risk attached to investments that in certain instances could act to create a new class of global landlords. The Gulf state overtures also come against the backdrop of rampant official land-grabbing in countries like Cambodia and Vietnam, where private ownership rights are not firmly established as their economies transition from communist to capitalist systems. Saudi Arabia, the Gulf's largest food importer, looking to regions closer to the Middle East, is in discussions with Egypt, Pakistan, Sudan, Turkey and Ukraine to grow crops for export. Riyadh envisions large-scale agriculture projects for selected countries in excess of 100,000 hectares and those plans appear in some form also to include Thailand. A group of potential Saudi investors were taken to survey rice farming areas in Thailand's central Suphanburi province in May, led by deposed Thai premier Thaksin Shinawatra. The proposal involved renting, not selling, the land, which foreigners are barred from owning in Thailand, and the creation of a joint rice-exporting venture. The surveyed land was apparently owned by a ruling coalition politician with the Chat Thai party. Nonetheless Agriculture Minister Somsak Prissnanantakul and the Thai Farmers Association came out strongly against the idea, accusing the plan's proponents of selling off the country to foreigners and jeopardizing Thai farmers' unique way of life.
Brian McCartan is a Chiang Mai-based freelance journalist. He may be reached at [email protected].