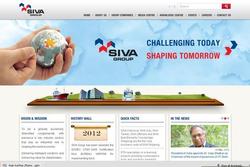 The Siva Group, controls, directly or indirectly, about a million hectares of land in these locations, primarily for palm oil plantations, GRAIN alleged.
Mint | 7 October 2014
Spanish activist group accuses Sivasankaran of global land grab
GRAIN's report accuses the Siva Group of land grab in many countries across South America, Africa and Asia
by Sayantan Bera and Aman Malik
New Delhi: Spanish activist group GRAIN, which works on issues related to food security and the concerns of small farmers, has accused the Chinnakannan Sivasankaran-promoted Siva Group of land grab in several countries across South America, Africa and Asia.
The non-profit organisation released a report on this on Tuesday. The Siva Group has not yet responded to questions emailed on Monday.
The Siva Group, controls, directly or indirectly, about a million hectares of land in these locations, primarily for palm oil plantations, GRAIN alleged.
"Examining the investments made by one of the most active private sector players in the global rush to acquire farmland—Chinnakannan Sivasankaran—GRAIN has uncovered a worrying picture of how foreign investors are grabbing the lands of rural communities in Africa and Asia and setting up complex corporate structures to facilitate tax avoidance, kickbacks and obscene payouts to their directors," the report said.
In recent years, global interest in acquiring large tracts of farm land has been fuelled by the commodity boom that started in 2008. Data compiled by Food and Agriculture Organization (FAO) of the United Nations shows that the global food price index jumped from 161.4 in 2007 to 201.4 in 2008—a rise of 25%.
Compared with an average annual expansion of global farm land of less than 4 million hectares before 2008, approximately 56 million hectares worth of large-scale farmland deals were announced even before the end of 2009, noted a 2011 World Bank report, titled Rising Global Interest in Farmland: Can it yield sustainable and equitable benefits.
"With a median project size of 40,000 ha, reports highlight the scale of investor ambition. In fact, a quarter of all projects involve more than 200,000 ha and only a quarter involve less than 10,000 ha," said the report.
GRAIN's report alleges that Sivasankaran, widely known as Siva, is behind many such transactions.
"His investments are channeled through a web of shell companies based in offshore tax havens such as Singapore and the British Virgin Islands, and companies specialising in acquiring lands from poor rural communities, particularly in Africa," the report claimed. The report said this has undermined traditional food systems and livelihoods of farmers in some the poorest regions of the world.
Mint couldn't independenly verify any of the findings, although the preference for shell companies and tax havens is characteristic of Sivasankaran, an NRI who, among other things, launched India's first low-cost PC brand Siva; acquired and sold a mobile telephony licence in the 1990s to the Essar Group; facilitated several transactions for the Tata Group; bought bankrupt rapper M.C. Hammer's house; accused then telecom minister Dayanidhi Maran of browbeating him into selling his telco Aircel to Malaysia's Maxis Bhd for favours the latter would return to the Sun Group, controlled by Maran's brother; and, most recently, declared bankruptcy himself in Seychelles, where he is based.
GRAIN report claims that in Liberia Sivasankaran bought a controlling interest in UK-registered Equatorial Palm Oil plc, with claims to two concessions. "One was a staggering 700,000 ha concession secured for around $3 million from two anonymous companies registered in the British Virgin Islands; the other, a controversial land deal involving people close to President (Ellen Johnson) Sirleaf that has degenerated into violent conflicts with the local community who say they were never consulted and who refuse to give up their lands," the report said.
In Sierra Leone, the report said that several communities were "outraged at a series of concessions" secured by UK army veteran Kevin Godlington on behalf of British businessmen.
"These were eventually sold to Sivasankaran. Different companies, same address, and same pattern in each case—deals reached via pressure on chiefs, with members of local communities adamant that they have never agreed to part with their land," the report added.
In Côte d'Ivoire (Ivory Coast), Sivasankaran "bought DekelOil, a company based in the tax haven of Cyprus and listed on London's AIM stock exchange, which raised money with an ambitious plan to lease lands for oil palm plantations and contract growing in the Guitry region," the report said.
"Administrative expenses here have totaled ten times more than operating costs as Dekel's executives draw generous salaries and bonuses. Curiously, local community leaders say they never negotiated any leases for their land and deny the company's official claim that a deal for the lands was signed."
The report says that in 2009, in the Democratic Republic of Congo, "a financial whiz kid from Toronto promised to revolutionise African agriculture with a bold new start-up called Feronia."
"Ravi Sood (the promoter of Feronia) bought up an old Unilever plantation, raised $20 million from Sivasankaran and several funds managed by Sood. But the company has declared escalating losses every year, its stock price has tanked and local communities say working conditions and services provided by the company to the community have deteriorated badly," the report went on to add.
In Papua New Guinea, the Sivasankaran-owned Geoff Palm (based in the tax haven of Labuan, Malaysia), "took control of a 110,000 hectare concession in East Sepik Province that belonged to 230 local clans before it was converted to a special lease behind their backs and snapped up by a local MP (member of parliament), who then leased it to a mysterious Australian company, SPV."
The report claims that a month later, SPV sold it to Geoff Palm. "Locals say they were never consulted—they haven't even seen the papers that transferred their lands, and don't know who signed them."
The findings of the GRAIN report are similar to that of the 2011 World Bank report. The latter said, "The focus of investor interest on countries with weak land governance increases the risk that investors acquire the land essentially for free and in neglect of local rights, with potentially far-reaching negative consequences. Such failure to value land at its true opportunity cost could result in projects that, while desirable from the investors' point of view, may not yield social benefits."
India is the largest consumer of palm oil in the world after China. At present more than half of the edible oil requirements of the country is fulfilled through imports, mainly palm oil produced in Indonesia and Malaysia.