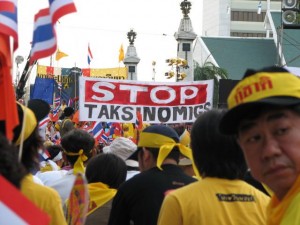 Bangkok Post | 23 May 2008
Saudi investors not wanted, say activists
POST REPORTERS
Farmers and activists have opposed a plan for a business consortium from Saudi Arabia to invest in rice farming in Thailand. The scheme is said to be the creation of former prime minister Thaksin Shinawatra.
Farmers fear they could lose their livelihood and rice farming could be held hostage by foreign investors.
The proposed investment was brought to light by Chart Thai party secretary-general Prapat Pothasuthon after Mr Thaksin took a group of businessmen from Saudi Arabia to see the rice production process at Buffalo Village in Suphan Buri's Si Prachan district on Wednesday.
The Saudi business group had shown interest in investing in rice farming.
The size of the investment was not revealed.
Mr Prapat said the proposal involved a joint farming project with Thai farmers, renting farmland and a joint rice export venture.
The Saudi investors are to study legal details before deciding on the proposal, he said.
''This group of Saudi businessmen are aware of the global reputation of Thai rice.
''A well-organised management system for rice farming would make the investment cost effective,'' Mr Prapat said.
He said a private company called Ruam Jai Chao Na (Uniting Farmers) had already been set up, with rice farming experts and farmers as board members.
The company offers to provide rice farming services nationwide, charging 5,000 baht per rai.
According to Mr Prapat, the company will also accommodate the Saudi rice farming venture.
Wichian Phuanglamchiak, a member of the Thai Farmers Association, said the plan could deal a serious blow to Thai farmers, who would eventually end up as foreigners' employees.
Apart from the Saudi investors, Taiwanese and American businessmen had earlier bought land from Thai owners.
Some Thai farmers were found to have rented land from the Taiwanese to grow crops, Mr Wichian said.
He said foreign investors had usually held land through their Thai nominees.
Withoon Lianchamroon, director of the Bio-Thai foundation, also disagreed with the investment plan and criticised the new company as being a nominee for foreign investors.
''This could be a threat. It is about the nation's food security.
''Rice farming is a livelihood reserved only for Thais.
''Already, about 40% of farmers do not own their land. They rent the land from someone else,'' Mr Withoon said.
Kanya Ornsri, an organic farmer in Surin province, warned that a profit-oriented approach to farming using large amounts of chemicals to speed the growth of crops would have a detrimental impact on the environment.
Kim-ang Pongnarai, coordinator of the farmers network in Chai Nat, said rice farming is more than just a livelihood for farmers.
It is also the very essence of Thai cultural roots, he said.
---