by Stephen Binda

The United Kingdom crude oil producer Equatorial Palm Oil (EPO), risk closure as member of Grand Bassa County legislative caucus lobbies to ensure that the operations of the company be halted due to allegations of land grabs.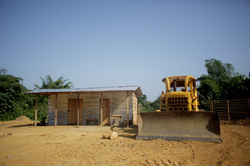 EPO bulldozer, Grand Bassa County: community resistance began in 2012, as they became aware the company planned a plantation covering 20,000 hectares.
EPO provides employment to over 1,000 Bassa and Sinoe citizens since its establishment in 2008 following the signing of a revised concession agreement ratified by the National Legislature and signed by President Ellen Johnson Sirleaf.
But Senator Youngbe Kanga-Lawrence feels the company is exploiting the county through what she described as illegal clearing for farm land using the police to intimidate. In a communication to the Senate, Senator Lawrence informed the body that despite a concession land area of 34,500, the company was grabbing more land than its required land space.
"What is happening in our county is serious," she said. "EPO has begun an illegal clearing of our people's land and this action is being backed by other authorities including the Superintendent, Internal Affairs Ministry as well as President Ellen Johnson Sirleaf."
She narrated that despite series of warnings and resolutions calling on the company to resurvey its current 34,500, acres of land, the company went beyond its required boundary. "This is terrible and we need to take some serious actions now, our people are dying," said Kanga-Lawrence.
She then requested the Senate to order a complete suspension of current operations of the company for violating the terms and conditions of the 2008 concession agreement. Furthermore, she said all parties should be made to appear before the full plenary of the Senate next week. But the Senator's letter generated a debate with others initially objecting to the suspension of the company's operations. "Do we have the power to halt the operations of the company?" asked Senator Joseph Nagbe of Sinoe County. "In my mind, I don't think so."
Others Senators including Bong County Henry Yallah, and Rivercess Senator Dallas Gueh, said the powers to suspend operations was vested in the Legislature (Senate and House) as prescribed in Article one of the Liberian 1986 Constitution, which among other things states: "All power is inherent in the people. All free governments are instituted by their authority and for their benefit and they have the right to alter and reform the same when their safety and happiness so require. In order to ensure democratic government which responds to the wishes of the governed, the people shall have the right at such period, and in such manner as provided for under this Constitution, to cause their public servants to leave office and to fill vacancies by regular elections and appointments."