Romania Insider | 22 April 2014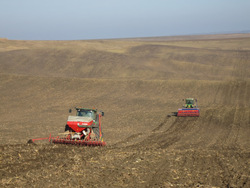 Arland farms in Botosani, Romania, owned by Denmark's Arland Invest APS, was sold to US investment fund Anholt Investment in April 2014. (Photo:
Thomas Aaby
)
Anholt Investment buys 6,000-hectare farmland in Romania with EUR 11 mln
by Irina Popescu,
[email protected]
U.S. investment fund
Anholt Investment
bought the Agraria Nord and Arland farms in Botosani county, Romania, with EUR 11 million, according to local daily Ziarul Financiar. The two farms hold together a total of 6,000 hectares of arable land.
Agraria Nord, which operated some 5,000 hectares of land, was taken over from the Austrian businessman Gerald Schweighofer, while Arland was bought from Danish Arland Invest APS.
Austria's Schweighofer is to cash in EUR 10.5 million from this transaction, while the Danish group sells their farm for EUR 0.5 million, according to data published in the Official Gazette, cited by Ziarul Financiar.
On average, the investment fund paid some EUR 1,800 per hectare.