Agrimoney | 17 April 2014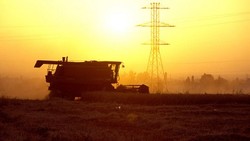 Astarta, a Ukrainian agribusiness company backed by the World Bank, Citibank and the U.S. Overseas Private Investment Corporation, controls 245,000 ha of farmland, an area nearly the size of Luxembourg.
Astarta upbeat on Ukraine despite 'near-term' woes
The head of Ukraine agribusiness giant Astarta Holding forecast a "substantially" better long-term business climate, and revealed an appetite for further land acquisition, even as troops clashed with pro-Russian protestors in the east of the country.
Viktor Ivanchyk, the Astarta chief executive, said that "ongoing changes" in Ukraine - which last month signed a political association with the European Union – would "lead to the fundamental transformation of the country".
"In the mid- and long-term outlook, these reforms shall substantially improve the business environment, attract foreign and domestic investments, and unlock value potential," he said, highlighting concessions made by the European Union on imports of Ukrainian products.
The EU will from next Wednesday scrap import duties on some Ukrainian exports, such as sunflower oil, for which the duties of 2.9% on unrefined oil and 6.1% on refinished product will be ditched.
It is also proposing a new zero-duty imports of 950,000 tonnes for Ukraine wheat, and 250,000 tonnes for barley, besides considering quota on sugar too, initiatives that Mr Ivanchyk said were "positive for companies like Astarta".
'Period of macroeconomic instability'
He acknowledged that "in the near-term, Ukraine might face the period of macroeconomic instability and will have to adopt additional savings measures".
The comments came an effort by Ukrainian troops to retake facilities in the east of the country seized by pro-Russian forces reportedly ran into stronger opposition, after winning back an airport.
However, Astarta - many of whose facilities are in Ukraine's troubled eastern region - revealed that it would this year extend an investment programme, with the aim of expanding its sugar processing facilities, boosting grain storage capacity and expanding its land bank.
The group last year had 245,000 hectares under cultivation, an area nearly the size of Luxembourg, or the UK county of Leicestershire.
'Very challenging year'
The comments came as Astarta unveiled a 48% plunge in earnings last year to 234.0m hryvnia, which the group reported equivalent to E25.7m, on revenues up 8.8% at 4.01bn hryvnia (E369.5m).
The drop reflected one-off charges, such as a doubling in the write-off on VAT reimbursements and a change in accounting which incurred a 41.8m-hryvnia property impairment charge.
However, the group also unveiled a 12.1% drop in gross profits from agricultural operations, as it negotiated what it termed a "very challenging year for agricultural commodities", as prices were depressed by improved harvests, including a 36% rise to a record 63m tonnes in Ukraine's grains production.
Astarta's gross profit in sugar - its key product, in which it is Ukraine's biggest player – fell 17.8%, amid a difficult market thanks to oversupply.
"The domestic sugar market faced significant consolidation as many inefficient producers quit being not able to tolerate low sugar prices stemming from the two consecutive years of overproduction," Mr Ivanchyk said.
Shares fall
He forecast better times for the sugar market ahead, saying that domestic sugar supply and demand were "currently close to a match, which provides good grounds for price recovery".
With Astarta maintaining its production last year, allowing it to boost to its market share to 26% from 19% in 2012, and with price rises on the horizon, the group was "optimistic" over prospects in the sector.
Nonetheless, with the group's profits falling short of market forecasts, Astarta shares, which are listed in Warsaw, dropped 4.9% to stand at 39.01 zloty in afternoon deals.