Reuters | 7 November 2013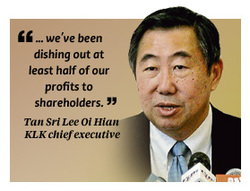 Image: My Palm Oil
Malaysia's KL Kepong acquires Liberian palm oil operations
Nov 7 (Reuters) - Malaysia's third-largest listed plantation company, Kuala Lumpur Kepong Bhd, said it had agreed to a $21.3 million cash acquisition to gain a foothold in the palm oil sector in Liberia.
KL Kepong has agreed to buy a 20.1 percent stake in London-listed Equatorial Palm Oil PLC and a 50 percent stake in Liberian Palm Developments Ltd, both from Singaporean palm oil producer and exporter Biopalm Energy Limited, it said in a stock exchange filing on Thursday.
Listed palm oil firms in Malaysia and Singapore have turned increasingly to Africa to set up operations as land in top producer Indonesia is becoming scarce after years of rapid development.
"The proposed acquisition is in line with KL Kepong's strategy to expand its plantation landbank outside Malaysia and Indonesia for geographical diversification into the West African region, where there is a net deficit of edible oils," the company said.
The remaining 50 percent in Liberian Palm Developments is owned by Equatorial Palm Oil.
KL Kepong will also take on Liberian Palm Developments' $608,000 loan from Biopalm Energy.
Liberian Palm Developments holds two 50-year concessions in Liberia covering 25,547 hectares.
--
StockMarketWire.com | 7 November 2013
EPO to receive $2m loan from KLKB
Equatorial Palm Oil has entered various agreements relating to a loan and liability assignment arrangement with Kuala Lumpur Kepong Berhad.
In addition, KLK has entered into various arrangements with Biopalm Energy Limited, including the proposed acquisition of its 50% stake in Liberian Palm Developments and 20.1% interest in EPO at a price of 5 pence per ordinary share.
Under the terms of the Agreements, KLK will provide a loan of $2m to EPO's 50%-owned joint venture company, LPD.
In addition, for a consideration of $2m payable to the Company, EPO has agreed to assign to KLK $6m of the outstanding liabilities due to EPO from LPD.
Simultaneously with the Company entering into the Agreements, EPO has also agreed to provide a loan of $2m to LPD. Subsequent to the Assignment and the EPO Loan, the total liabilities owed to EPO by LPD amount to $5.1m.