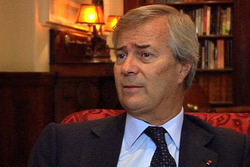 Socfin, part of French billionaire Vincent Bolloré's Bolloré Group, owns more than 51,000 hectares of palm estates in Nigeria, Ivory Coast and Cameroon.
Reuters | 12 October 2011 |
français
By Simon Akam
FREETOWN, Oct 12 (Reuters) - Sierra Leone authorities have arrested 39 protesters in the south of the West African nation, following tensions between the local population and a unit of international agro-investor Socfin.
The locals were protesting a multi-million dollar land deal in which the government is leasing to Societe Financiere des Caoutchoucs (Socfin) 12,500 hectares for oil palm production in the Pujehun district.
The initial phase of the deal is worth $112 million.
Green Scenery, an NGO in Sierra Leone, said some locals have complained they were not properly consulted and were not given information concerning the deal, signed in April.
Farmland in many developing countries has attracted foreign investors in recent years, but a U.N. Food and Agriculture Organisation official last year warned some big land lease deals might risk deepening poverty and ramping up social tensions.
Green Scenery said in a statement locals had blocked Socfin operations in the area since Oct. 3 because they were angry about not receiving information on the lease agreement, in which a local chief was involved.
The statement did not give details of what information the farmers said they were deprived of.
Gerben Haringsma, the general manager of Socfin Agricultural Company Sierra Leone Ltd, told Reuters the company was investing in social projects and the protesters were in the minority.
"We tried for weeks to reason with these guys (the protesters)."
"The government decided to stop it, saying this was getting out of hand," he added.
Socfin, part of France's Bollore Group, owns more than 51,000 hectares of palm estates in Nigeria, Ivory Coast and Cameroon.
David Sesay, assistant inspector general of police for the southern region of Sierra Leone, said officers arrested 39 people on Tuesday and took 27 to the country's second city of Bo for questioning.
"The people were continually rioting, blocking the road, and impeding people from going to work," he said.
Sierra Leone was devastated by civil war between 1991 and 2002, and held presidential elections in 2007.
Since the end of hostilities the minerals-rich country with abundant resources such as iron ore, bauxite, diamonds and titanium ore, has attracted a number of foreign investors.
African Minerals is developing a site at Tonkolili in the centre of the country which it has said is potentially the world's largest deposit of the iron ore magnetite.
In the agricultural sector, alongside Socfin Swiss commodities trader Addax, has leased a large area for sugarcane for biofuel use near the town of Makeni.
"In some ways the renewed interest in agriculture is a welcome reversal of decades of underinvestment in the agricultural sector that has contributed to rural poverty and urban migration," Oli Brown, environmental affairs officer with the United Nations in Freetown, said in an email.
"However agricultural investment needs to be carefully managed and designed to ensure that it contributes to rural development and does not exacerbate food insecurity."
(Editing by Bate Felix and Matthew Jones)