AllAboutFeed | 30 March 2011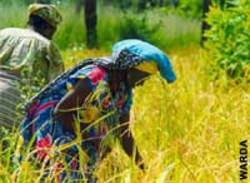 The president of the Republic of Gambi, Sheikh Professor Alhaji Dr Yahya Jammeh last week officially opened the 2011 Legislative Year. Among others he reaffirmed that the main thrust of his government is not only food self-sufficiency, but also becoming a major player in the agricultural exports market.

Agriculture being one sector that has the greatest potential to provide employment for hundreds of thousands of people across all walks of life in the country, according to the president, his government is bent on eradicating poverty through this sector.

To this end, he disclosed that his government through the Ministry of Agriculture and the Taiwanese Agricultural Mission, is putting rice cultivation about 400,000 hectares over a period of five years that has started since year 2009.

"The objective is that even with an output/yield of one tone of rice per hectare, once the entire 400,000 hectares are put under rice cultivation, we will have produced more than what we consume and can go into the export market," he said.

"With the expected investment of about eighty to a hundred million dollars into this sector in the very near future by a Gulf State company, in addition to the recently launched programmes to be funded by the World Bank Group, Gambia will soon realise her dream of becoming the bread basket of Africa," the Gambian leader stated.

New feed mill
President Jammeh also talked about diversifying this sector with a view of making it more appealing to all manners of people; and from the labour intensive to aquaculture, animal husbandry, livestock agriculture, poultry, and horticulture, amongst others.

Given the high cost involved in animal and poultry feed which has to be imported, he said that his government has gone into a joint venture with a Middle Eastern (Gulf State) Company to build an animal feed plant, which he anticipated to be operational before the end of this year.

In addition to that, he also disclosed that a flour mill will soon be established to compliment that effort.

While emphasising that his government has launched an all out war on hunger and poverty, the president also informed that the government also launched the Gambia National Agricultural Investment Programme (GNAIP), which he said has the overall objective of harnessing agriculture and natural resources, and increasing food security, amongst others.