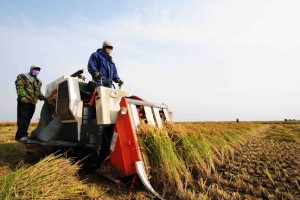 Wall Street Journal | 26 September 2010
By PATRICK BARTA
TUGUEGARAO, Philippines—Failure to boost farm investment in poor countries after a global food crisis in 2007 and 2008 could prolong a recent jump in food prices, contributing to inflation in the developing world.
In the wake of the 2008 crisis, governments of developing countries and donor nations, as well as private investors, proposed a wealth of new spending, and industrialized nations committed billions of dollars to promote sustainable agriculture and emergency food assistance, notes a report to be released Monday by the Asia Society and the International Rice Research Institute in the Philippines. The efforts included plans to develop unused or underused lands to farming in the Philippines, Cambodia and Indonesia and to expand farm roads and grain-storage infrastructure in India.
Some countries with well-developed agricultural markets, including the U.S., have significantly boosted production. But in Asia, the source of much of the world's new food demand, some projects aimed at increasing production have been dropped or delayed amid the financial crisis, limiting the gains. Disputes over land ownership, lack of capital and concerns over environmental issues have held back other investments.
After a drought led Russia to ban wheat exports, wheat and corn prices have climbed more than 40% since late June. The price of rice, a vital foodstuff in poor countries, is also rising, though not as dramatically. Economists say they doubt the recent price increases will get as far out of hand as in 2008, when rice prices were higher and food riots broke out in regions from Haiti to Cairo to Jakarta. Grain reserves world-wide are bigger now, and the weaker global economy is keeping inflation lower.
Still, the latest food-price increases are causing worry in some poor countries, where food comprises a larger part of consumers' budgets. On Friday, Vietnam said its consumer-price index rose 8.92% in September from a year earlier, an acceleration from 8.18% in August, in part because of high food prices. Inflation has ticked up, in part because of food prices, in other Asian countries in recent months.
Analysts say that even if grain prices come back down, their climb—in a year of relatively weak global growth with expectations of the third-largest cereals crop on record—is a reminder that producers still aren't investing enough to keep up with demand in Asia.
"We have seen very little concrete investment in serious long-term infrastructure in developing countries" since 2008, says Maximo Torero, an analyst at the International Food Policy Research Institute in Washington.
Developing countries will need to boost agricultural investment to $209 billion a year, up 47% from the annual average between 1997 and 2007, to meet growing demand for food, the report from the Asia Society and the IRRI says.
That report comes on the heels of a special United Nations meeting on Friday in Rome, where delegates concluded that unexpected price spikes—triggered by events such as the drought in Russia— "are a major threat to food security," although they said there was currently no indication of an impending global food crisis. The cereal-import bill for the world's 77 poorest countries is expected to rise 8% to $27.8 billion in the current season from last year, U.N. officials said.
This year's surge in food prices shows that "2008 was not just a blip, this is the way things will be, with repeated shocks" in the years to come, says Robert Zeigler, director general of the International Rice Research Institute.
In Indonesia, progress has been slow on Merauke, a food estate on the remote province of Papua backed by a host of private-sector investors. Envisioned in 2007 and 2008 as a way to help Indonesia follow the lead of Brazil, a major food supplier to China, the Connecticut-sized farm project wasn't formally launched until February this year, and many of its major components have been delayed amid worries over their environmental impact and a lack of infrastructure.
In Cambodia, private investors say they have been unable to develop farms or launch new mills because of opaque land-ownership rules.
The Philippines, the world's biggest rice importer, has extensive unused fertile lands, including forest areas cleared by loggers in earlier decades. Political leaders have vowed repeatedly to make the country self-sufficient in food, partly by utilizing those areas.
But after developing new land earlier in the decade, the area harvested for rice and corn, key local products, has stopped rising over the past two years. In 2000, the Philippines produced about 92% of its rice needs; today, it produces about 79%.
Philippine conglomerate San Miguel Corp. launched an ambitious "Feeding Our Future" program with the government and other investors in July 2008 that included as much as $1 billion in planned spending to develop one million hectares (2.47 million acres) of farmland.
Two years later, land identified by the government for the project is still being evaluated, people familiar with the project say. A spokesman for San Miguel says he isn't sure how much land, if any, has been developed.
"We are committed to seeing this project through, even for the long term," San Miguel President Ramon Ang said.
Proceso Alcala, who took up the post of Philippine agriculture secretary in July, said in an interview that he hasn't seen "a drastic change" in the food situation since 2008, despite a raft of government programs and hopes of more private-sector funding.
"Programs were just placed on paper but not done," he says. His department is resetting its priorities to focus heavily on irrigation projects with a target of attaining rice self-sufficiency by 2013, he says.
One promising area is the Cagayan Valley north of Manila. Rice yields, at about 4.1 tons per irrigated hectare, are well below the target of 5 tons per hectare proposed more than 30 years ago—a level agriculture officials believe could easily be reached with more investment.
Andrew Villacorta, the Philippines' Department of Agriculture's regional executive director, says some areas have one agricultural extension agent for every 710 farmers, when about 1 to every 150 is needed. Most farmers leave their corn to dry along highways because there isn't enough storage capacity.
Agricultural officials have identified 250,000 hectares of idle but fertile land in the area, but not much has been taken on by farmers due to lack of investment capital and other problems, he says.
Outside the town of Mallig, local authorities awarded about 20,000 hectares of idle land, along with seed money, to a farmers' cooperative several years ago.
Emerson Gawen, the cooperative's manager, says farmers initially planted cassava, an edible starchy plant. But after spending much of their money on tractors, they ran out of cash, and a new local government administration cut off financial support. He says farmers can't get bank credit because they don't have enough collateral.
Now the land sits fallow—an empty expanse of rolling hills and grasslands. "If someone will give us funds again to cultivate these lands, we can move in," he says.
In Manila, rice prices have risen slowly but steadily in recent months, leaving poorer residents struggling.
"We don't eat breakfast to save," says Susan Minay, a 43-year-old mother of four who earns about US$70 per month as a government employee.
—Josephine Cuneta contributed to this article.