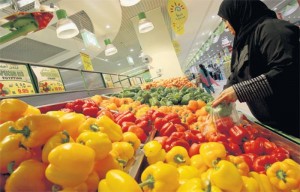 Emirates Business 24/7 | 23 May 2010
Almost all of the food on local tables may soon be made in the UAE.
By Dina Al Shibeeb
Soon you may find that almost all the food on your table is made by the UAE, if not in the UAE. From funding agriculture research in salt-resistant crops to investing in Bluefin tuna farming in Japan and buying up agricultural land in fertile parts of the world, the UAE has embarked on an investment spree to ensure domestic food security in a country with miniscule arable area.
Emirates Business has learnt that food and agriculture-related investments abroad will only increase with time. Yousef Diab, an economic researcher from the Ministry of Foreign Trade, told this paper that the country is continuously exploring several options abroad to sustain its food basket.
"The value of the UAE's [agricultural] investments abroad have increased significantly from 2006 to 2008, with a 45 per cent growth. In 2006, agricultural investments were approximately $10.9 billion (Dh40bn). In 2007 they rose to $14.6bn and reached $15.8bn in 2008," he said.
Diab added that while there were no precise figures for such investments in 2009, a synopsis of activity in the sector last year indicates that expansions abroad continued unabated. For instance, in 2009 Pakistan's Ministry of Investment decided to offer a million acres of farmland to foreign investors, and the Emirates Investment Group (EIG) from the UAE was one of the investors.
Also in 2009, an investment plan was mooted by the UAE agricultural investment firm, Janan, with Egypt to cultivate about 42,000 hectares of land with wheat, maize and other crops in the North African country. The project will extend until 2015 and is expected to produce 350,000 tonnes of wheat a year, Diab said.
Last year, the UAE was also in talks with the Cambodian government for purchasing land in the South East Asian country for rice cultivation. The UAE even sent a delegation to Phnom Penh to pursue the acquisition of agricultural land, either though outright purchase or through a 99-year lease contract with the Cambodian government, said Diab.
"Most of the UAE's investments abroad are by private investors. The government is also using part of its huge oil and gas revenues for the same purpose," he said.
According to data available with the ministry, there are many UAE agricultural investments taking place in countries far and wide, especially in the ones with proximity to the UAE.
Diab said, there are five projects being studied for launch in Jordan, with a total value of Dh201.35 million or JD39m. The projects include a JD4m kiwifruit orchard, a JD5m sheep farm, a JD2m seawater greenhouse, and a JD20m tractor assembly plant.
According to data up to June 2009, the UAE already contributes in Jordan with the Rashid Al Dhahiri Olive Presses Company, as well as the Al Marmouqa Food Company. There are also investments worth JD50,000 in the UAE Farms Company and another JD50,000 in Al Shalal for Agricultural Investment. Diab added that the UAE also has an ostrich farm in Jordan valued at JD319,000 set up by the Jordan-Dubai International Capital Company.
In Morocco, he said, the Abu Dhabi Development Fund has expanded its old investment agreement in 1982 with the government to partner with the National Investment Company of Morocco, creating the Moroccan-Emirati Company for Development with $12.5m (Dh46m) of investment capital, 33.9 per cent of which was contributed by the Abu Dhabi Development Fund. The Moroccan-Emirati Company for Development invests in various sectors including manufacturing, agriculture, fisheries, metals and tourism.
Also, in Morocco, the UAE's Al Qudra Holding Company is investing in various sectors such as farming and fisheries. Diab said that through alliances with many companies, among them the Ikhlas Group, it is launching a project for olive cultivation, in addition to two other projects – Calta Sea Food and Kona, both in the fisheries sector.
Al Qudra Holding is also going ahead with a project called Olivia for planting olive trees in Morocco, Diab added. This project is 100 per cent owned by the company, and is valued at around Dh37.186m.