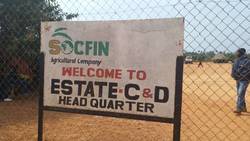 BBC | 27 January 2019 [
FR
]
BBC report from Sahn Malen chiefdom, Sierra Leone
►
Listen
(MP3)
BBC PRESENTER:
Details are just emerging of the scale of the recent disturbances in Sahn Malen chiefdom in Southern Sierra Leone. There are disputes between local land owners and a European agribusiness company, SOCFIN. People are angry. They say land given to the company was grabbed from them. Their leader and Member of Parliament, Shiaka Sama, has been in jail for almost a week and two people have been killed in clashes with soldiers. Our reporter, Umaru Fofana, has been to the area with a group of human rights activists and he sent this special report from Pujehun.
UMARU FOFANA:
On the dirt road we drove, a massive swathe of controversial oil palm plantation owned by SOCFIN stretches to as far as the eyes can see. Villages on the way are covered in dust, many of them desolate. Thousands have fled their homes, petrified.
[man speaking]
We are in Basale village. This man says people have fled because the soldiers come at night and beat them up. There's a dusk-to-dawn curfew in the entire Sahn Malen chiefdom, and throughout the day heavily armed police and soldiers are ubiquitous. It's followed the shooting dead of two civilians -- villagers say by soldiers -- as they protested against the local authorities. But the authorities say they were killed by members of a secret society who were allegedly incited by the local MP Shiaka Sama. He says it's all a lie to frame him up.
[sound of vehicle]
I'm in a village called Bomu Vulhun and I can hear the birds singing out there. The village is almost completely deserted. This is the home town of the local Member of Parliament who is currently under police custody following the killing of those two people. I'm trying to find out why this place is so completely deserted.
[man speaking]
This resident of the village says people have fled because they fear the soldiers, whom he says have been brutalising them. In more than a dozen villages and towns I visited, there were complaints galore against soldiers. Mama Kobau, probably in her 50s, insisted to tell me her story.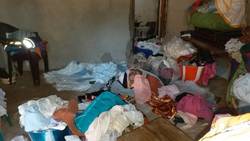 The ranshacked house of a community member
[woman speaking]
"Two soldiers came here and repeatedly hit my door. They asked if this was the house of the chief. I pleaded with them that I had just had a motorbike accident and they should spare us. They asked me to give them 300,000 leones. I told them I had no money. They took away my phone and asked my son to kneel down before they beat him mercilessly. I feel traumatised by that experience."
[sound of car engine]
We're heading off now to the area where the two people were killed.
I'm standing at an intersection in a place called Jao Junction and just 30 metres away from me is a police roadblock. There's a perimeter fence here encircling one of the offices of SOCFIN. There are armed police and soldiers standing guard right around the perimeter fence and this is where two civilians were gunned down.
[sounds of footsteps]
I've just entered the camp to talk to the company workers here. They wouldn't talk, saying that I should talk to the police and the soldiers. They called the military commanders on the ground and they also refused to talk. They were pretty friendly, really very friendly and chatty. But they just would not say anything about what's happened here, neither on record nor off the record.
[sounds of villagers]
Many of the villagers have gone to neighbouring Sowa chiefdom. Hundreds of them are here, in Sembehun.
[man talking]
The chief Mustafa Kamara gives me the names of villages the displaced persons have come from, saying he has an emergency at hand.
[man talking]
"I have received about 371 displaced persons here in my village, and more are still coming in. Since they arrived we have been struggling to cope. We are sharing our homes with them, but shelter is not enough, so we are grossly overcrowded. Our food supplies have run out. Many of them sleep on the floor."
Human rights activists have visited the area and have been there for days, cataloguing what happened in this place. The army commander refused to talk to me, as did the traditional leader Paramount Chief Kebbie, who the villagers accuse of sending the soldiers against them.
BBC PRESENTER:
Umaru Fofana, in Pujehun.
(Aired on the BBC, Sunday 27 January 2019 at 1915GMT)