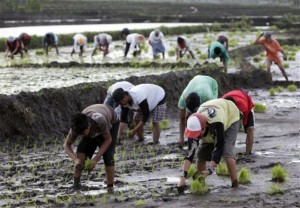 Manila Bulletin | December 24, 2009
By MARVYN N. BENANING
Militant farmers belonging to the Kilusang Magbubukid ng Pilipinas (KMP) are completely disgusted by the failure of government to stop land and crop conversions.
KMP stressed that the Department of Agrarian Reform (DAR) itself had ruled against farmers claiming 21,000 hectares of land, with the once fertile agricultural land reverting to landlord control.
As many of 50,000 hectares of land have been converted to cash crops to the detriment of rice and ancillary vegetable production, the group claimed.
There is less incentive to engage in rice cultivation as the Department of Agriculture (DA) and the Department of Environment and Natural Resources (DENR) have vowed to find up to 2.4 million hectares of land for foreign agribusiness ventures.
In exchange for their capital, government will provide a package of generous incentives for Chinese, Japanese, Bahraini, Bruneian, and Saudi investors.
KMP stressed that the generosity for foreigners is meant to attract foreign investments even as the peasantry continues to be denied asset reform, which includes the distribution of arable land to farmers, the provision of technical services to increase production and incomes and ample water supply for their fields.
No less than 1.8 million peasants still await the land promised them, many of them in Southern Luzon.
The KMP also questioned the veracity of DA statistics, noting that it had increased the per capita consumption to 128 kilos annually, more than double the figure 20 years ago.
The per capita consumption translates to a requirement of 17,333,600 metric tons (MT) of rice yearly on the basis of a population placed at 92.2 million.
This figure means the total annual production of palay should be 34,667,200 MT each year since it takes two kilos of palay to produce a kilo of rice.
On this basis, the country's 4.48 million hectares of rice farms must produce 7.74 MMT of palay annually, or 3.87 MT of palay per hectare per cropping season.
Theoretically, the yield per hectare of each Filipino farmer is higher at more than 3.7 MT per hectare, much better than the output of every Thai or Vietnamese farmer.
Since the country deficit is not moving at 10 percent per year, then the total importations must only be 1.74 MMT but for next year, the National Food Authority (NFA) has already been authorized to import as much as 2.4 MMT.
Huge importations are always occasions for graft and people must bear in mind that back in February, 2003, Nueva Vizcaya Rep. Carlos Padilla blasted the R9.5-billion supply contract won by foreign trader, alleging the shipment was reeking with irregularities. The rice cargo, he claimed, was rotten.