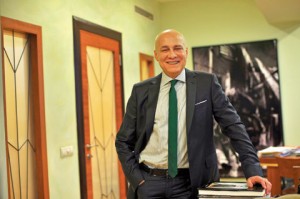 Today's Zaman | 03 December 2009, Thursday
On the rebound from plans run ashore amidst the global financial storm, Mineks International is back in action, securing new Arab funds to develop Turkish agricultural technologies.
ROBERTA DAVENPORT  ?STANBUL Speaking with journalists on the sidelines of a tournament at the National Golf Club, Bülent Göktuna, chairman of the board of directors of the Mineks International M&A consultancy firm, said Mineks had withdrawn from the Vision3 project. Announced last November, the strategic alliance between three major Gulf banks to bring a $9 billion investment trust to Turkey -- particularly in investment in the Southeastern Anatolia Project (GAP) -- hit the rocks when the banks were affected by the continued spiral of the financial crisis. Mineks decided to work directly with other investment funds to find new sources of funding and their pursuit has borne fruit. "As Mineks, we continued our pursuit of [sovereign wealth funds]," Göktuna said, announcing that they had neared an agreement with a new Arab investment fund. Declining to disclose the name of the investment group, Göktuna did comment: "It's an Arab investment group. Right now we're looking at companies active in the private Turkish agricultural sector. Our main focus here is on the companies who have developed themselves in terms of grain production. The second group [comprises companies focusing on the production of] seeds. This is followed by fruits or vegetables and then animal husbandry." Göktuna explained that they were thinking of entering the field either through a merger or acquisition and then as a second stage, bring the technologies developed in Turkey to the Gulf and northern Africa and develop agriculture there. The investment is to begin with $200 million and, sparing any new disasters in the global markets, is expected to grow to $9 billion in the next two to three years, Göktuna said. The Turkish agriculture sector is rather developed, he noted, and the only thing that has prevented firms from growing has been financing limitations -- which can be solved with the procurement of such a large investment fund, he said. "I can see that these companies could just explode in size with an investment, an injection of cash like this," he said. Göktuna also spoke about plans for new investments in solar energy, saying Mineks had reached an agreement with the world's biggest producer of solar panels and that they were planning to reach the same stage soon with a Bahraini company. "They want to invest here [in Turkey]. We're aiming for a 200 megawatt solar investment. Investments will be made in areas like Konya, Ni?de and Antalya," he said.