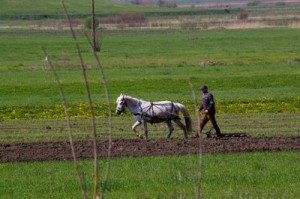 Reuters | Thursday November 12, 2009
Private fund to be launched by year end in Gulf
Aims to buy 50,000 hectares of land in Romania

To target land in CIS region and Africa
By Amena Bakr
DUBAI, Nov 11 (Reuters) - A private sector agriculture fund worth $350 million plans to launch by the end of the year in the Gulf, with an aim to acquire farmland in Eastern Europe and Africa, an executive told Reuters on Wednesday.
Gulf countries, mainly reliant on food imports, have increased efforts over the last year to buy or lease land in developing nations to secure food supplies.
The fund is a joint venture between Pharos Financial Group, a fund management firm based in Dubai and London-based Miro Holdings International, which specializes in agriculture assets management.
"The fund will be launched by the end of the year and will be marketed next week in the Gulf and Europe," Peter Halloran, chief executive of Pharos Financial Group told Reuters in a telephone interview.
The fund will target land acquisitions in Eastern Europe, the CIS region and Africa, Oliver Barnes, chief executive of Miro said. "We have a team out in Romania right now that are looking at areas of land that we could potentially develop....we are looking at acquiring an area of around 50,000 hectares there."
Romania now offers foreign investors the right to own land, said Barnes, adding that neighboring Moldova is also close to granting foreign investors the same rights.
"Much of the land there is not producing to its full potential because of lack of capital and technology...we can easily raise production of a hectare from two tones of wheat to five," said Barnes.
Crops from Eastern Europe will be mainly sold to the Middle East while from land acquired in Africa the crops will be sold domestically, Barnes said.
"We plan to first start with the projects in Eastern Europe and then move on to Africa to countries like Tanzania at a later stage."
Food prices have risen sharply over the past year, prompting government and private sector firms in the Middle East to look into ways of securing supplies, as the majority of the food in the region is imported.
"The rising population in the region and the increased need to secure food supplies has backed the launch of this fund as agriculture is now viewed as a strategic asset," said Pharos' Halloran. (Reporting by Amena Bakr; Editing by William Hardy)