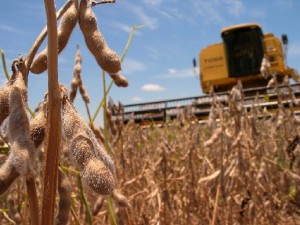 Bloomberg | 9 November 2009
By Rodrigo Orihuela
Nov. 9 (Bloomberg) -- Rains across Argentina in the past two months will boost profit at Cresud Sacifya, the country's biggest agricultural company by market value, as soybean output recovers from drought, Raymond James Financial Inc said.
"The good weather conditions will have a very positive impact on annual earnings," Francisco Schumacher, 28, a natural resources analyst at the firm in Buenos Aires who rates the stock "buy," wrote in e-mailed comments to Bloomberg News on Nov. 5. "Bad weather significantly affected yields last year."
Recent precipitation across Argentina's main agricultural zones has improved the prospects for higher soybean yields at Cresud, the country's biggest farmland owner with an area the size of Delaware. Argentina, the world's third-biggest grower of the oilseed, may produce a record 53 million metric tons this year, according to Acsoja, the nation's producers association. Dry weather reduced the previous crop to 32 million tons.
The drought, which lasted two years in parts of Argentina, caused Cresud's agriculture and livestock businesses to lose 62 million pesos ($16.5 million) in the fiscal year ended June 30, compared with a 43.6 million peso gain in the previous period, the company said Sept. 9. Schumacher said it's too early in the crop cycle to estimate earnings for the current year.
More than 100 millimeters (3.9 inches) of rain fell in parts of the soy belt from Sept. 1 to Oct. 31, according to Agriculture Ministry statistics. In farms around Rafaela, a town in Santa Fe province, precipitation was 80 millimeters in September and 52 millimeters in October, the data show.
Soybean futures for January delivery dropped 17 cents, or 1.7 percent, to $9.55 a bushel Nov. 6 on the Chicago Board of Trade. The drop capped a weekly decline of 2.2 percent, while prices have fallen about 2.6 percent this year.
Improvement in Yields
"The improvement in yields and the lower costs of leases and fertilizers should allow for a significant improvement," in profits from grains, Schumacher said. "The grains division is what tilts the scale -- it did it for worse last year and will do it for the better this year."
Cresud's shares, which are traded in Argentina and in the U.S., closed at 5.05 pesos on Nov. 5. The Buenos Aires Stock Exchange was closed for a bank holiday on Nov. 6. The company's shares have gained 64 percent this year, compared with a more than doubling of the benchmark Merval Index.
Farm companies provide an opportunity for investors who believe that global demand for food will rise in coming years, pushing up commodity and farmland values, Societe Generale analyst Dylan Grice wrote in an Oct. 15 note to clients.
"Agricultural companies are the safest way for investors to gain exposure," wrote Grice, who is based in London.
Argentine Exports
Argentina exports 95 percent of its soy production in the form of beans, edible oils, animal food and bio-fuel.
Cresud's farms produced 237,031 tons of grains and oilseeds from 110,875 hectares last year, compared with 198,146 tons from 58,706 hectares in the previous period. Soybean planting in Argentina began last month and continues until January.
Cresud's fiscal first quarter earnings, which are due to be announced on Nov. 12, will probably come too early to reflect the improvement in weather, Schumacher said.
Buenos Aires-based Cresud reported net income of 124.6 million for the fiscal year ended June 30. The company plans to acquire more land to add to the 484,000 hectares (1.2 million acres) it owns and the 90,410 hectares it leases in Argentina, Brazil, Paraguay and Bolivia, said Alejandro Bartolome, general manager of Cresud Argentina. Delaware is about 1.25 million acres, according to the U.S. Department of Agriculture.
"Because we believe prospects for long-term agricultural production and development businesses are favorable, we will maintain our plans of expanding in Latin America," said Bartolome, who declined to comment on earnings prospects, in e- mailed comments to Bloomberg News.