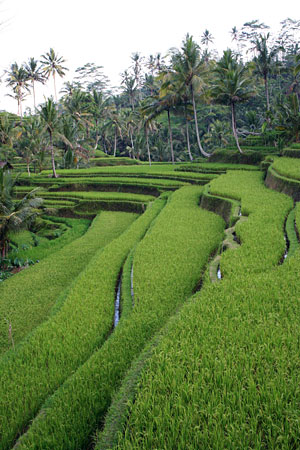 Thomson Reuters | 10.26.09
By Aloysius Bhui
JAKARTA, Oct 26 (Reuters) - The Saudi Binladin Group's $4.3 billion planned investment in Papua, east Indonesia, to develop rice fields has stalled because of problems acquiring land from local people, an agriculture ministry official said on Monday.
Saudi Arabia and other countries, including China, are acquiring farm land abroad as part of their strategy of achieving greater food security, following sharp increases in food prices in 2008.
An agriculture ministry official said Binladin is considering acquiring up to 2 million hectares of farmland in Papua to grow basmati rice, which is not popular in Indonesia.
Saudi Arabia has launched a government-sponsored push to invest in agriculture outside the Kingdom to secure food supplies, and is considering Indonesia, Sudan, Ethiopia, Egypt, the Philippines and Turkey.
Indonesia's agriculture ministry is headed by the Islamist Prosperous Justice Party (PKS), which wants to attract more investment from the Middle East.
Land ownership is one of the issues that tends to hold up investment in infrastructure and other projects.
'With regards to land-based investment, we have a huge amount of homework to do,' said Gayatri Rana, head of the promotion and market development division at the agriculture ministry.
'It is a problem that we have been facing from generation to generation,' she added, referring to the resistance by indigenous people to sell their land.
Papua's population is mainly Christian and animist, and religious conflicts have flared up in some parts of the province in easternmost Indonesia following the influx of Muslims from neighbouring islands in search of work.
Rana said any big investment in the rice sector is basically aimed at boosting exports given that Indonesia has posted large surpluses and no longer needs to import rice.
'But such a plan cannot be implemented yet. We will continue our efforts in the next one to two years,' she said.
She said the efforts will also need support from local government in Papua to improve awareness among the local indigenous people, who control the land, about the need to attract investment for job creation.
'Imagine what we can do with 2 million hectares. Creating jobs, that's one thing we have not really promoted,' she said.
(Reporting by Aloysius Bhui; Editing by Sara Webb)
((
[email protected]
; +62 213846364 ext 913;
[email protected]
))