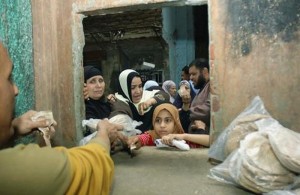 Reuters | Fri Oct 16, 2009
By Roberta Rampton
DES MOINES, Iowa (Reuters) - Farmland deals in Africa inked by private Egyptian firms could help the import-dependent nation get access to grain when markets spike, Egypt's agriculture minister said in an interview on Thursday.
Amin Abaza said he does not believe it's the proper role for government to invest in farms abroad but it can help private companies secure fair deals.
"This is going to be a private initiative, but the government, if it has the possibility to encourage this and stand behind them, it will do that," Abaza told Reuters on the sidelines of the World Food Prize forum.
Egypt is the world's top wheat importer and relies on foreign supplies for almost half of the 14 million tonnes it consumes each year.
Fears of climate change and shrinking water supplies have prompted Gulf states and others that require food imports to try to secure farmland in Africa and elsewhere.
The deals, commonly called "land grabs," have been criticized as risking displacement of small-holder farmers.
Egyptian firms have made some investments in Sudan and there is interest in Ethiopia and Uganda, Abaza said.
Depending on how many companies get involved, Egyptian firms could strike deals for a "couple of million acres" of farmland, he said.
Abaza said the deals would help Egypt if prices rise as they did last summer, prompting some countries to ban exports, leaving importers scrambling for supplies at any price.
"It's true that the private sector will only deal in a commercial way. He will only sell if he's getting a good price. But it would increase our availability to food if we are ready to pay international prices," Abaza said.
Last month, Egyptian private equity firm Citadel Capital said it was investing in farmland in Sudan.
Egypt is eager to participate in an international agreement on farmland deals being discussed with the United Nations' Food and Agriculture Organization, Abaza said.
"We have said that we want to have an international agreement or understanding that in case of crises, what would be the percentage of food to be exported to foreign countries if the land is owned by private companies?
"Because in a time of crisis everyone tends to close the borders and ... keep the food inside," he said.