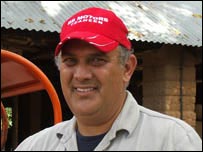 Bloomberg | October 9, 2009
By Ron Derby
Oct. 9 (Bloomberg) -- South African farmers have been offered land for agriculture in Angola and Uganda and the government is also in talks with the Democratic Republic of Congo, Zambia and Southern Sudan.
South Africa "encourages this type of expansion," Agriculture Minister Tina Joemat-Pettersson said at a conference in Muldersdrift, outside Johannesburg, today. The country needs "to ensure that we broaden the base for commercial agriculture."
Before any agriculture "there must be bilateral agreements between governments," Johannes Moller, president of Agri SA, the country's largest farmers association, said at the conference. Farmers want to move into Africa "as a result of scarcity of natural resources and land redistribution," he said.
AgriSA on Sept. 30 said it had been offered as much as 10 million hectares (24.7 million acres) of land to farm in the Republic of Congo and 35,000 hectares in Libya.
South Africa's government will complete a review of its "willing-seller, willing-buyer" model of land redistribution by early next year, Thozi Gwanya, director-general of the land ministry, said yesterday. South Africa wants to transfer 30 percent of farming land to black farmers to help compensate for discrimination under apartheid.
To contact the reporter on this story: Ron Derby in Johannesburg at
[email protected]