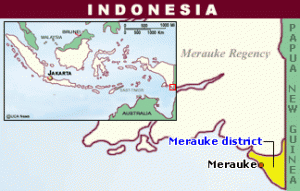 Tempo Interactive | Monday, 05 October, 2009
TEMPO Interactive, Jakarta: The Japanese government, through the Japan International Cooperation Agency (JICA), wishes to allocate US$250 million (around Rp2.42 trillion) as funding to build supporting facilities for the development of agricultural lands in Merauke, West Papua.
This investment is a way to support the world food security program.
Deputy to the Coordinating Minister for the Economy from the Agriculture and Maritime Affairs Division, Bayu Krisnamurthi, said that the investment is still under discussion.
"The funds will be used to build an harbor too," said Bayu in a press conference, last Friday (10/2).
Although the schedule for the investment has not yet been decided, Japan announced its commitment in a Tokyo Seminar on Indonesia at the end of last month.
The seminar decided two things. First, several companies like the Mitsubishi Corporation are interested in promoting Merauke as a new rice barn in Asia.
Second, the Indonesian government and JICA have agreed to arrange an ambitious program supporting food security in Indonesia, especially for soybean and cattle feed.
"Japan has interests as it is the largest food importer in the world," said Bayu.
The investment will part of Japan's commitment as it has stated its supports for responsible global investment mechanism on agricultural activities during the 64th UN meeting in New York on 23 September 2009.
The meeting in New York was attended by 31 countries and 9 international agencies.
All countries have agreed to a joint-plan in order to avoid world food insecurity like last year when rice prices in the international market rose up to US$1,000 per ton.
"Food insecurity is because of limited investment on food sector in the last 10 years," he said.
There are three large areas of land in Indonesia that have potential for agricultural investment. The lands include Merauke (3 million hectares), Sulawesi (10,000-50,000 hectares), and Kalimantan whose size is not measured yet.
In addition, there are West Nusa Tenggara (10,000 hectares) and southeast Sulawesi (25,000 hectares).
It is estimated that 500,000 hectares of land could produce 3 million ton of rice per year when the investment in Merauke realized
AGOENG WIJAYA