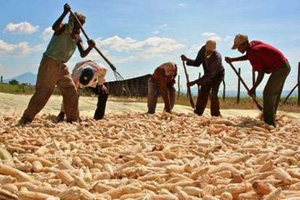 Times of India | 26 September 2009
Asha Rai, TNN
He owns land eight times the size of Mumbai, 7.4 lakh acres to be precise. Most of it in distant Ethiopia. He claims to be the world's largest holder of greenhouse assets (750 acres) and the world's largest landbank holder. His company, Karuturi Global, figures among the top 25 agri transnational corporations. But he wants more -- to break into the top 10 and rub shoulders with the likes of ConAgro and Cargill.
Meet Sai Ramakrishna Karuturi whose improbable journey has taken him, at 43, from a family-run cable business in Bangalore to being one of the biggest landowners in the world. No mean achievement for a boy who was thrown out of six schools before landing on his feet at Mysore's Sri Rama Krishna Vidyashala. He's forever indebted to the institute's Swami Sureshanandaji and to his parents who refused to give up on a "difficult child."
Karuturi, the 'rose king of the world', with an annual capacity of 550 million roses and a 9 per cent share of the crucial European market, has today gone far beyond floriculture. Given that food shortages are likely to be an enduring global phenomenon with resultant high prices, he's diversifying into food production.
How did a man with a mechanical engineering degree from Bangalore University and an MBA from Case Western  Reserve University, Cleveland, who made it to the Dean's honours list, get into floriculture? Karuturi says he was looking at a significant diversification from the core electrical contracting business and the North-South (hemisphere) arbitrage opportunity in horticulture appealed to him.
And the shift to Africa? The decision to enter Africa -- a game changer for him -- came from an Edward De Bono seminar he attended. "There I learned the importance of thinking. It made me look beyond India for production and prospects. It was a paradigm shift in our outlook." Today, he has extensive holdings in Kenya and Ethiopia -- some owned and most on 90-year lease -- as well as in India.
However, he scotches all talk of taking on Ethiopian citizenship. "I treasure my Indianess and will always be an Indian citizen. I am sure things will evolve suitably in India for a more aggressive opportunity play in agricultural production sooner rather than later."
Karuturi's Global's topline reflects this exponential growth. Revenues rocketed from Rs 44 crore in March 2006 to Rs 454 crore this past fiscal. Net profits have also zoomed from Rs 14 crore to Rs 117 crore in the same period. So have debts. Karuturi says "internal accruals and additional capital infusion have funded" his massive land purchases.
And it isn't just getting the backend right that has worked for Karuturi. Building relationships with customers and prioritising them has helped build long-term, sustainable ties. For example, when the Gulf war broke out, all flights off-loaded cargo as they had to carry additional fuel. "We had an order to supply to a very large supermarket in the UK. I routed my flowers into Nairobi on Kenya Airways and into London. My customer got his roses, when most of his other suppliers let him down. He still swears by us," he says.
Indians who have ventured into Africa have generally stuck to trading, and at most, to mining. Agriculture's unchartered territory. How did Karuturi land there? "Africa was not an option but inevitable in our journey to excel in agriculture. India has fragmented and very expensive land. Also, land is a politically emotive subject, and legal limitations restrict large-scale agriculture."
However he is optimistic that agriculture in this country will change in his lifetime. "India has 120 million hectares of land with over 200 million still not cultivated. If and when the river interlinking project takes off, I am sure huge geographies will open up in India on a BOT (build, operate, transfer) model. The model being followed for the road, port and power infrastructure will manifest itself in the irrigation arena in our lifetime."
Not an "outgoing kind of person", he's always home by 7 pm to spend time with his three girls. He used to enjoy walking around his farms with his wife Anitha but now has to drive "as they are too big to walk."