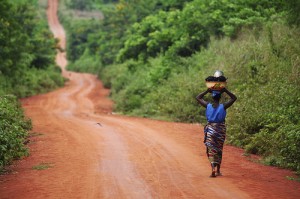 Joong Ang Daily | September 25, 2009
Give what they really want rather than what you want to give.
That's the principle the Korean government is beginning to apply in its more rigorous diplomacy with countries rich in natural resources.
The Korea Rural Community Corporation, under the Agriculture Ministry, said yesterday it would build a 100,000-hectare (247,100-acre) agricultural complex in Tanzania beginning next year.
The project, which the government estimates will cost 700 billion won ($587.5 million) to 800 billion won, will be the largest single piece of agricultural infrastructure Korea has ever built overseas.
The measure came after the government promised help for Tanzania's agricultural industry to the East African country's prime minister, Mizengo Pinda, during his recent visit to Korea, the KRCC said.
"So far, Korea has tried to use its prowess in IT technologies to improve relations with these resource-rich countries, but the the area where those countries really request Korea's help is agriculture," said Lee Ki-churl, head of the Overseas Project Team at the state-funded company.
"Now, the government is catching on and moving in that direction."
The corporation said it is also in talks with other resource-rich countries about deals in exchange for support for the construction of agricultural infrastructure or farms. Among the negotiating partners mentioned were Indonesia, Laos, Myanmar, Senegal and Mongolia.
Korea's private investment in overseas resource development has significantly increased under the Lee Myung-bak administration, with spending over the last two years totaling $1.3 trillion, compared with $784 billion made from 2003 to 2007. Korea imports many of the resources it needs.
Regarding the Tanzanian project, the KRCC said a minister-level official from Tanzania will visit Korea in the middle of next month and sign a memorandum of understanding in which the details will be worked out.
The complex, the company said, will be built in a delta in Pwani in Tanzania's coastal region and include agricultural properties and facilities such as pumping stations, irrigation channels, an agricultural technology center and an agricultural goods export center.
By Moon Gwang-lip [
[email protected]
]