(Note: According to the Financial Times, Glencore owns the Moreno Group, one of Argentina's key soyabean companies, and farms more than 300,000 hectares of leased or owned farmland from Australia to Paraguay.)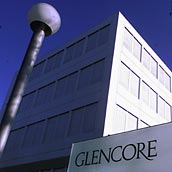 By Polly Yam and George Chen
HONG KONG (Reuters) - China's $200 billion sovereign wealth fund has added privately-held commodities trader Glencore International AG to its roster of approved investment partners as it deepens its access to global raw material markets, two sources familiar with the matter said on Thursday.
A source familiar with China Investment Corp's strategy said Glencore and CIC's fixed-income department recently concluded a preliminary "commodities product investment agreement." The source was not able to offer any additional details.
A manager at a trading and investment firm in Asia, which is a client of Glencore, said top management from Glencore visited CIC in Beijing in August and signed a memorandum of understanding in which CIC agreed to invest in Glencore's products or bonds.
A CIC spokesman declined to comment when contacted by Reuters.
It was not immediately clear how CIC would work with Glencore, the world's biggest commodities trader, which typically trades its own book. But Glencore also has a derivatives trading venture with Credit Suisse, which has an expanding business offering commodity investment products to customers.
CIC, founded in late 2007 and the youngest major player of the world's sovereign fund families, has set up client-like relationships with many banks and funds already, relying on external asset managers for some investment areas where it is not strong enough to play alone.
For example, CIC committed $800 million in a new $6 billion global Morgan Stanley (MS.N) real estate fund late last year, thereby allowing CIC to become an investor of the fund as well as a client of Morgan Stanley in the real estate investment area.
CIC was also reported by Britain's Independent on Sunday last month to be one of six companies interested in lending cash to Glencore in return for a stake in the trading house.
Commodities is a relatively new investment area to CIC as the sovereign fund set up its commodities team within its fixed-income department only late last year.
The state fund so far has less than 10 investment professionals specializing in commodities, so the sovereign fund has to rely on external managers for investments in commodities area, said a source familiar with CIC's investment strategy.
Glencore, founded in 1974, has been one of the top sellers of primary aluminum, nickel, alumina and base metal concentrates to the Chinese market for decades.
Glencore International, the world's biggest commodity trader, and Credit Suisse (CSGN.VX) were in advanced discussion about creating the world's first physically backed aluminum exchange traded fund (ETF), four industry sources across Asia said.
Speculation over a possible IPO of the secretive commodities giant, estimated to be worth up to $40 billion, has been rife in recent months, but bankers told Reuters in June that any public listing was likely to be years away.
(Editing by David Cowell)