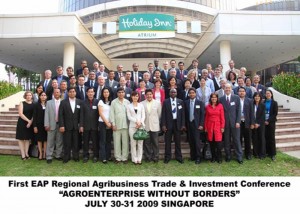 Sustainable Commercial Agriculture, Land and Environmental (SCALE) Management Initiative
Achieving a Global Consensus on Good Policy and Practices
John E. Lamb
Agribusiness Team Leader
Agriculture and Rural Development Department
World Bank PDF: 
http://siteresources.worldbank.org/INTEAPREGTOPRURDEV/Resources/JohnLamb2.pdf
from:
East Asia and Pacific Regional Agribusiness Trade and Investment Conference
The World Bank together with International Finance Corporation organized the first EAP Regional Agribusiness Trade and Investment Conference "Agroenterprise without Borders", in Singapore on July 30-31, 2009. The objective was to initiate a multi-country, public-private long-term effort to stimulate increased intra-regional trade and investment in the agrifood sector of East Asia, consistent with best practices in critical areas such as land-extensive agroenterprise, cluster and value chain development, and assured compliance with food safety, environmental and social standards. A total of 171 participants attended, representing a mix of public trade, development and regulatory agencies, private companies involved in agribusiness or supporting it, and civil society organizations that represent producers or processors or that focus on key themes such as sustainability. In addition to two days of presentations and discussion, the event included a working dinner jointly organized with the APEC Food Safety Cooperation Forum to discuss public-private collaboration for food safety.
All papers online here:
http://go.worldbank.org/7JIOBU80V0