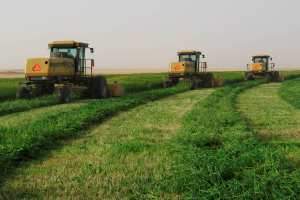 The National (UAE) | 13 August 2009
Sarmad Khan
A private agricultural investment firm in Abu Dhabi plans a Dh925 million (US$251.8m) farmland deal in Egypt to grow wheat for the African nation's domestic market.
Investors from the Gulf have been buying into farmland across Africa and Asia at an increasing pace, primarily to secure sources of food for their own needs. But what started as a strategic initiative to secure food imports has increasingly been regarded as a commercially viable business.
The latest venture, by a little-known company called Jenaan, aims to grow the crop on 42,000 hectares in south-western Egypt.
"We will be signing an agreement with the Egyptian authorities in about a week's time for the deal, which will be executed over the next five years," said Ziad Shaat, the general manager at Jenaan, which is owned by private Emirati investors.
The crop will be "strictly for Egyptian consumption", he added.
Egypt, the most populous Arab nation, is an attractive investment proposition for wheat producers because of a bread subsidy system on which the poor depend. Disruptions to the programme have led to sometimes violent protests, making its maintenance a political priority.
This will be Jenaan's second foray into the north African nation. In 2007, the company invested $25m to cultivate about 2,520ha and establish an animal feed plant.
The firm, which also holds farmland in Sudan, plans further expansion in African countries, including Ethiopia, and to tap into Asian agricultural markets.
"We are at the feasibility stage on our Ethiopian project," Mr Shaat said. "Our experts are evaluating different options and we will soon make a decision on investments. Far Eastern countries are next.
"But, right now main focus is on our projects in Egypt and UAE."
The new project, in the south-western area of East Oweinat, will be carried out in phases until 2015. The firm will start out by cultivating 8,400ha and expand its operations by the same amount each year. After five years, the land is expected to yield 350,000 tonnes of wheat annually.
Egypt is also among the world's biggest importers of wheat, consuming 14 million tonnes of the cereal a year.
To overcome logistical difficulties in reaching the remote East Oweinat area, about 1,000km from Cairo, Jenaan has already signed an agreement with an Egyptian airline.
"This will help us in transferring labour and material to farm sites. Flights will start from September 24 this year," Mr Shaat said.
Soaring commodities prices and high inflation last year raised concerns about food security in the Gulf, leading to increased interest in foreign agricultural assets. The UAE imports about 85 per cent of its food at an estimated cost of Dh10.64 billion a year and all other Gulf countries are net importers.
The UAE last year started talks with Pakistan to invest up to $500m in its farming sector.
Al Qudra Holding, an investment company based in Abu Dhabi, said last August it planned to acquire about 400,000ha of farmland in the Middle East, East Africa and the Far East.
The company had already acquired 1,500ha in Morocco and Algeria and was considering buying land in Pakistan, Syria, Vietnam, Thailand, Sudan and India.
The Emirates Investment Group, based in Sharjah, and Abraaj Capital, a private equity firm, also have agricultural land holdings in Pakistan.
Yet gaining entry into agriculture markets such as Thailand, the sixth-largest rice producer in the world, has been challenging and politically charged for Gulf investors.
In June, Thailand refused to allow Gulf companies entry to its market, citing its Foreign Business Act that prohibits foreigners from owning businesses relating to farming and livestock.
Restrictions such as these have made land in less-strict countries such as Pakistan and Egypt, with its population of 76 million, prime targets for Gulf investors.
However, unrest over food supplies has played out in Pakistan, where the agricultural sector contributes the bulk of GDP. Wheat shortages led to rioting in major cities last year, with critics of the government's policy of selling farmland calling for agricultural produce to be kept in the country to meet domestic demand.