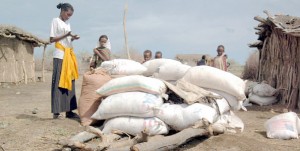 Business Daily (Nairobi) | 14 August 2009
By Argaw Ashine
Ethiopia is on the defensive over a plan to offer 2.7 million hectares of land to foreign, mainly Asian, companies despite millions crying out for food aid from the international community.
According to Ethiopian Agriculture Ministry officials, Ethiopia has set aside 2.7 million hectors of land for foreign companies from the Middle East and East Asia countries.
The government is committed to handing over 1.7 million hectares of the arable land to the investors before the next harvest season.
World top oil producing countries including the United Arab Emirates, Saudi Arabia, and giant economic nations like India, China and South Korea are queuing in Addis Ababa to be allowed to start big commercial farming ventures meant to feed their own people.
Indian investment
The competition among "land grabber" states has become fierce and the overall number of companies applying for land in the country has reached 8,000. However, only 2,000 companies have secured farmland. India is leading the land buying race and so far its investment in agriculture in Ethiopia has reached more than $2.5 billion. The country's total investment in Ethiopia was $300 million three years ago and now stands at $4.3 billion. It is double compared with Western aid. Outgoing Indian ambassador to Ethiopia Gurjit Singh believes that Indian investment will reach between $8 billion and $10 billion in a few years. "I don't think this is the end of the story, but just the beginning," he said. Currently, more than 5.2 million people in the rural south and east of the country need emergency food aid from the international community. Another eight million rural poor are supported by an aid scheme. Mr Esayas Kebede, the director of Agricultural Investment Support Office, said that large scale foreign commercial farming was a way to end poverty and hunger. "We have abundant land and labour, but we don't have a finance and technology to feed our people," Mr Esayas said. "It's not land grabbing, we are looking to generate foreign currency to support our development effort," he added. "It's better than begging," he said.
Agriculture delegation
Mr Esayas downplayed the size of land allocated to the investors, saying it is only 2.7 million hectares compared to the country's total arable land estimated at 74 million hectares of which Ethiopian farmers plough only 17 million hectares.
Prime Minister Meles Zenawi is also supportive of the land grabs. After welcoming a Saudi agriculture delegation recently, he said: "We told them (the Saudis) that we would be very eager to provide hundreds of thousands of hectares of agricultural land for investment."
Some critics, including Mr Jacques Diouf, the head of FAO, warn against this form of "neo-colonialism" but others say the investment can boost economic growth in Africa.
Ethiopian People Democratic Front (EPRDF), the ruling party, is considering its land use policy and allowing private investors to cultivate it alongside more than 14 million Ethiopian peasant farmers.
The ruling party will meet to revisit a proposed land use policy shift in September.