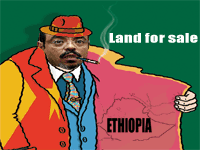 Abugida Info | August 13th, 2009
Experts worry about negative consequences
By Genet Mersha
In Ethiopia, land is under government control and, therefore, cannot be sold or bought. Of the dozen or so African countries engaged in such deals, for varied reasons the cases of Ghana, Madagascar, Mali and the Sudan have also attracted similar attention. Perhaps the only commonality between Ethiopia and these countries is that they are all far ahead of others in that experience, as they have concluded several international farmland lease deals in the past five years. Nevertheless, much of the information is still under wraps.
Consequently, this venture into unknown territories by poor developing countries with weak institutional capacities and frail system of rule of law has sent worrying signals to concerned global citizens. This, thus, has placed the new mode of international agricultural land deals in developing countries under laser-sharp scrutiny. The more experts learn about the phenomenon of international farmland deals, the more concerned they become by the consequences of such deals between unequally matched partners. The fear is that, the hunger in many developing countries for farm investment from rich foreign companies may end up compelling them to hand over their only assets to international investors (through international contractual agreements).
Stefano Manservisi, director-general of aid and development at the European Commission says, "We are very concerned because this is another way to exploit developing countries… The poorest countries are selling commodities, they are exporting migrants and now they are selling their land from which they will not take any kind of benefit in terms of food or whatever."
Of equal concern is the survivability of millions of small-scale farmers against the onslaught of competition by well-greased commercial farms. An analyst at the Forum for Biotechnology and Food Security in India says, "Outsourcing food production will ensure food security for investing countries but would leave behind a trail of hunger, starvation and food scarcities for local populations… The environmental tab of highly intensive farming—devastated soils, dry aquifer and ruined ecology from chemical infestation—will be left for the host country to pick up" (Guardian April 7, 2009).
Not least, against the backdrop of rapid global climatic change, the worry of those who have seen the light is the impact of fast expanding commercial agriculture on the natural environment. In this connection, without including existing commercial farms, recall that even the 13.3 million small-scale agricultural holders in Ethiopia open up over a million hectares of virgin lands annually, i.e., according to the Ethiopian Central Statistics Agency (CSA, 2008 Abstract).
Why worry about land rental deals?
International investors interested in African agriculture are fast growing in number. Their action is induced by the need of the rich with less endowed agricultural lands to ensure their continued supply of food with cheaper prices and winning the competition against ethanol. Others are interested in making more money. The objective of Chinese holdings in Ethiopia for sesame production, or the new Indian venture in Ethiopia into tea, bio-fuel, and sugarcane and cotton production has no any other reason.
Still others are keeping worried looks on the heavy burden of food prices on their balance of payments, as in the case of the Gulf Cooperation Council (GCC), which spent $10 billion in 2008 on food imports (Bahrain's Gulf Daily News). Therefore, motivated by the need to counter this problem, the GCC have announced this year their desire to turn Africa as their breadbasket. The process has started by strengthening the GCC-Africa Co-operation Forum, funded by both OPEC Funds and national earmarks by the five member countries of the GCC had already held its first meeting in Bahrain recently. Initially, Mozambique, Senegal, Sudan and Tanzania have signed on. Thus, virgin farmlands have been selected and the infusion of huge investments has begun in earnest into these countries.
Oliver De Schutter, special envoy for food at the Office of the UN High Commissioner for Human Rights, says, "This is speculation betting on future prices. What we see now is that countries have lost trust in the international market. We know volatility will increase in the next few years. Land prices will continue to rise. Many deals are even now being negotiated. Not all are complete yet."
Similarly, China has taken steps to produce sesame in Ethiopia as of this year, which is the first of its kind. Recall that Ethiopia is the fourth largest sesame producer in the world; its natural sesame from whitish Humera seeds and machine-washed from Wollega fetch highest prices. Other parts of Ethiopia also produce good sesame; but what they need is some help in improving the production techniques and the producers' exposure to the market. This requires improved policies to enhance agricultural production and overcome the country's weak export capacities that have stood as barrier before millions of producers.
Until now, China has been Ethiopia's leading export destination for most of its sesame. The EU and the US that normally imported from India have also turned to Ethiopia's natural sesame lately. Records on global exchanges indicate that 150 countries import sesame seeds. While the prospect for sesame producers is brightening up, clearly the tilt to involving millions of ill-equipped peasant producers in unmatched competition by China on fertile virgin lands mostly should be cause for serious concern for Ethiopia and its friends. Since August 2008, sesame has been fetching $1,380 per tonne in the international commodity market. The natural sesame from Ethiopia has been priced around $1,400 for sometime, according to Business Standard.
Consequently, it is hardly with unfounded reasons that such investor interests and the latest trends in African agriculture have compelled the international community to break its silence. The concern is that Sub-Saharan Africa is fast becoming a hotspot for international land acquisitions.
In terms of local responses so far, the controversy has ended up in the overthrow of the government in Madagascar. As its first action, Madagascar's army backed leader last March cancelled a deal by South Korea's Daewoo Logistics to lease a million hectares of Madagascar—equivalent to the size of Qatar—to grow food, according to Reuter. Ever since, Madagascar's has been embroiled in serious instability and political polarization. In some other deal making countries, negative sentiments may be there, although for now governments and businesses have managed to prevent any possibilities for loud or violent forms of expression of resentment.
Growing international concerns
Meantime, at the international level fresh controversies have begun to brew amongst experts, individual activists, and non-governmental organizations. Many are urging international organizations to step up to the plate and do their job on behalf of people that are ignored by their governments. For now, much of the media reporting has remained superficial. It has been terribly short on essentials of the deals or essence of the on-going controversies. Last spring, different non-governmental organizations engaged the FAO and its experts in intense debates along that direction. Their concern zeroes in on what they referred to as "land grabs." The point they are driving home is concern for the voiceless, stressing the imperative need for careful review of the future trend of agriculture in developing countries in general and food production in particular.
David Hillam, FAO deputy director in charge of the trade and markets division who opened the Washington conference entitled 'Land Grab": The Race for the World's Farmlands' last March expressed the overall concern cogently. He said, "Imagine empty trucks being driven into, say, Ethiopia, at the time of food shortages caused by war or drought, and being driven out again full of grain to feed people oversees…Can you imagine the political consequences? That is why proper legal structures need to be put into place to protect land rights, and why we should look at some form of international code of conduct."
Ruth Meinzen-Dick, researcher at the Washington-based International Food Policy Research Institute (FPRI) encapsulated the essence of the debate at the international level to IPS saying, "The bargaining power in negotiating these agreements is on the side of the foreign investor, especially when its aspirations are supported by the host state or local elites." Uwe Hoering, a German development expert, who followed these debates dubbed the whole land deal issue "a new form of agrarian colonialism."
There is no doubt that the arrangements are complex. Let alone for the media, even professional researchers find it difficult to get a crack at it, even when vigorous analyses of such deals, filling the gaps and developing informed understanding of the opportunities and risks is a part of their vocation. What makes it complicated is the home governments' role and connections with the robust, politically and financially well-wheeled investor companies, countries and individuals, not to speak of their ultimate objectives and the consequences. Whereas the media's interest in the matter has aroused international curiosity, until recently concern over the matter has hardly moved beyond scratching the surface of the mega-million dollar international deals on agricultural lands.
Ethiopia, part of new study on international farmland lease arrangements
With the publication in May 2009 of a report entitled Land Grab or Development Opportunity? Agricultural investment and International Land Deals in Africa, the information gap for now is being filled somewhat. This international report, backed by an extensive research undertaken in Ethiopia, Ghana, Madagascar, Mali and Sudan—the very countries on which media reporting has sharply focussed, depends on data available in the countries. Case studies on legal arrangements were also conducted in Mozambique and Tanzania. The report is the outcome of collaborative efforts between FAO, the International Fund for Agricultural Development (IFAD) and the International Institute for Environment and Development (IIED).
Funding for the international research was provided by bilateral governmental agencies such as Danida (Denmark), DFID (UK), DGIS (the Netherlands), Irish Aid, Norad (Norway), SDC (Switzerland) and SIDA (Sweden). The publication of the report was funded by FAO, IFAD, and DFID, the latter through IIED.
The report stresses that land is central to identity, livelihoods and food security of peoples in the host countries. That in view, therefore, it does not shy from expressing its concerns boldly. Such is one that, for instance, many of the countries involved in this practice do not have in place institutional mechanisms to protect the rights of small-scale farmers and rights and interests of the local population, nor the environment. These countries also do not have qualified personnel and sufficient experiences in land markets to assess and determine land lease contracts in market values. For all that is known to date, in many instances deals have been kept either in total secrecy or under less transparent cover. This could be either the choice of host countries or those skilful international investor-negotiators wishing to keep their deals under wrap, or coincidence of the interests of both parties.
Where have the rental fees gone?
A question in the minds of citizens in these countries and around the world is whatever happened to the money, for instance, which is not even reported in the case of Ethiopia in the records of government treasury, or as part of income, for instance, in the national budget outlays. For example, the 2010 Ethiopian national budget was approved less than three months ago, with no reference at all to such incomes. If indeed, it is aggregated under the revenue section, it is long overdue that it was indicated specifically as revenue from land rental fees.
The finance ministry usually reports in national budgets sources of revenues and incomes such as direct and indirect taxes, foreign transfers, foreign aid and loans, private transfers, royalty, dividends and project support, etc. Why not this one? That would have been one helpful indication of what the monies from land rents are used for. Surprisingly, the information does not even appear anywhere in the quarterly and annual reports of the National Bank of Ethiopia (NBE).
Can there be an explanation for this? Or should we remain silenced for fear of labelling, as usual, those raising such a questions of national concern by government and its agents as work of the power hungry diaspora, or hired guns for the opposition that the regime portrays its questioners as anti-peace or anti-'Ethiopian democracy'? This time no matter the label, we are all in it for our country's future and, therefore, good citizens would not change their minds on the pressing need to put the information on contracts on agricultural lands with foreign firms and the incomes in the public realm.
Even in its cautious and minimalist approach, the above-mentioned international report indicates that land under investor claim in Ethiopia between 2004 and early 2009 to be 607,760 ha. FAO estimates put that as 1.39 % of suitable land for rain-fed agriculture. The number of projects over 1,000 ha is 157 and the total investment commitment is reported as $78,563,023, which is far down from the real figure. It certainly is not so huge in terms of magnitude.
The report also warns that these figures may not be all that there is to it. There are a number of deals that have not been reflected in the national data records. The authors attribute that partly to inadequate national record keeping system. For instance, although not in the public arena yet, the TribuneBusiness claims (March 2009), quoting the London Independent, Saudi Arabia alone had paid Ethiopia $100 million for farmlands in March to grow wheat and barley. Therefore, there is concern that some of them may not even be reported at all.
There is no doubt that good governance means transparency. Why should a government suppress information, unless it fears that its fingers will be held in fire? Therefore, there is no justification whatsoever for those government of Ethiopia, as it is involved in international farmland deals, to remain less transparent. It is duty bound to inform its citizens what the essentials of the deals it has signed are and to what purpose the monies are or have been utilized so far.
Transparency in practice would avoid the politically harmful suspicions of corruption, allegations of siphoning capital to foreign banks to which the name of the regime in Addis Ababa has often been mentioned. This means that, in addition to authoritarianism and violations of human rights, the land deals are conspiring to obliterate the regime's image.
If this charge is allowed to continue in a hash-hash manner, as is the case now, it would prove to be an added impediment to the already weak national cohesion and national development in a politically polarized country. Its stigma is no less than the kiss of death. It would stain Ethiopia's name. As usual in such circumstances, government may turn to suave American and British public relations firms to cleanse the regime's image. I dare say, it would be to no avail in the face of evolving international campaigns that are gaining momentum.
A commentator on the London Independent article under the title 'Land Grab": The Race for the World's Farmlands' already wrote a letter that reflects the sentiment in the streets of Brussels, London, Rome and Washington. The writer of the articles says, "The real problem is that the elite in African countries are desperate to take cash from foreigners. They then apply this cash to purchase 'security and defense equipment.' And this is turned on the locals, especially locals who have their own ideas on what should be the land policy. This is not new colonialism. It is the elite of Africa (a combination of soldiers, thugs and opportunist politicians) strengthening their own power base."
Data sources for the report, the pros and cons of the issue in outsiders' eyes
The purpose of the international report is to highlight both the opportunities and risks involved in international agricultural land deals. Its authors say governments in different countries are their sources of information. They emphasize they have reviewed national inventories of approved and proposed land acquisitions in those countries, conducted interviews with concerned national officials and international experts, including reviewing the relevant literatures on the matter.
Of special significance is that the report has benefited from links with a parallel study led by the World Bank, involving FAO and IIED early on. Overall, the report sheds some light on some information and provides reasonable understanding of the state of such arrangements. While it attempts to make recommendations, especially for the benefit of the host countries, some critics of the report see them as inadequate, 'wishy-washy' and dismiss them by virtue of that as being of little value to developing countries.
Critics, amongst them, Uwe Hoering, a German development expert, accuse the report of "emphasises on the macro-economic advantages that the foreign grab of African land could represent, such as higher state revenues, and new chances of development in rural areas. But when it comes down to formulating norms to be applied to guarantee that African national interests are respected, it can only provide weak suggestions which, in addition, (it says) should be voluntarily applied and not too restrictive for the foreign investors."
The Economist expressed its concerns from two different angles. Whereas it sees the values of "foreign investment in some of the most miserable places on earth" that these farmland leases drive, it worries about the fact that "most of these deals are shrouded in mystery." It adds, "This is rarely a good sign, especially in countries riddled with corruption… Secrecy makes it impossible to know whether farms are really getting more efficient or whether the deals are done mainly to line politicians' pockets. Next, most of these deals are government-to-government. This raises awkward questions. Foreign investment helps countries not only by applying new technology but also by reorganising the way people work and by keeping an eye on costs. Few governments do this well, corrupt ones least of all" (May 21st edition).
Case of land lease in Ethiopia
The international report states, "Obtaining geo-referencing for approved and proposed land deals proved difficult in most country studies, though in Ethiopia data obtained by the country team enables plotting investment amounts and land area sizes by region against FAO data on land suitability [see map below]. The map suggests that documented land deals tend to concentrate in regions with more fertile lands and/or closer links to markets. This mapping exercise only gives a broad-brush picture of the spatial distribution of land deals, however." This FAO map is unpublished; it is reproduced here from the international report.
DOCUMENTED LAND ACQUISITIONS IN ETHIOPIA, 2004-2009
[caption id="attachment_6845" align="aligncenter" width="300" caption="Sources: country studies; FAO (2009); FAO unpublished "]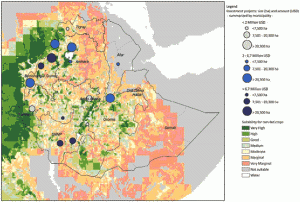 [/caption]
In their reviews of national inventories, the authors of the international report have established that since 2004 Ethiopia, Ghana, Madagascar, Mali and Sudan have approved allocations of 2,492,684 ha of farmlands. For the five countries, this is exclusive of allocations below 1,000 ha. The report contends that its figures may not necessarily be complete, especially in land sizes and the revenues thereon.
So far, there has been limited information in the public arena on the full details of Ethiopia's land deals with foreign companies or foreign government's and individuals. What is reported on the foreign media is a German company that has been working for some time now on biofuel project on about 13,000 ha. Another German entrepreneur has been allocated 150,000 ha for livestock project. In addition, land has been leased to Saudi Arabia for report commercial farming of rice, which is augmented recently with palm oil production. Not known also clearly has been the sizes of farms held by Ethiopians in partnership with foreign individuals and companies.
Other than the above, what is public knowledge is on 21 July 2008 Prime Minister Meles had given President Omar Ismail Gulleh of Djibouti 7,000 ha of land to grow wheat. In addition, Mr. Gulleh is a recipient of 10,000 sq. m. of lakeside land 45 km from Addis Ababa to build commercial farming of rice, which is augmented recently with palm oil production. A few years back, the president has already built his villa in Dire Dawa, whose value is estimated $5 million, according to news sources. Of course, what is not disclosed to Ethiopians is what their leaders have received from foreign governments.
The unavailability of information to the public gives the impression that in Ethiopia's case the genesis of international deals on agricultural lands is August 2008, after Prime Minister Meles Zenawi announced on the Financial Times that Ethiopia was "eager to give Saudi Arabian investors access to hundreds of thousands of ha of farmlands for investment and development." That impression/or inadequate information has been inaccurate, since we now know from the international report, Ethiopia has been at the forefront of the renting of farmlands to foreign companies and, in some cases, to foreign state enterprises since 2004.
More land allocation made official in Ethiopia
The Ethiopian government has recently set up the Agricultural Investment Support outfit to deal with land lease and related issues. The director of that agency on 29 July told Reuter in Addis Ababa of the marking of 1.6 ha of land "for investors willing to develop commercial farms." Ethiopia is so much after more deals now that it has put into its farmlands offers many attractive goodies.
"Investors who qualify have the opportunity to receive loans from local banks up to 70.0 percent of their capital investment as well as attractive incentives and tax holiday," according to the director of the newly established office quoted by Reuter. It appears that no lesson has been taken from bank loans to foreign investors in the horticultural sector, some of which vanished without traces, even payment of what they owed to their labourers. They have only left their significant contributions to the already substantially high stock of non-performing loans on the books of Ethiopian banks.
There is an indication by an Ethiopian government official that land selection and allocation is carried out by the regional states. He says that was the case in Afar, Amhara, Benishangul Gumuz, Oromia and the SNNP regions. Not mentioned in the list by the official is Tigray region. However, FAO's unpublished aerial map shows an allocation of as much as 7,500 ha (see map above).
It is reported that foreign firms that have started operation include a Chinese company aiming to produce sesame seeds, Indian companies engaged in the production of sugar cane, tea and cotton and bio-fuel. In addition to rice, wheat and barley, a Saudi Arabian company has contracted to work on palm oil production. One of the findings of the report is that private companies rather than foreign state-owned entities own the major shares of the approved investments.
Criteria for land allocation in Ethiopia
All land lease projects documented by the national inventory in Ethiopia involve allocations of (or applications for) government leases of diverse durations from 10 to 50 years (e.g. 10, 30 or 50 years). In determining what lands are to be allocated to foreign investors, the seemingly applicable determinants are whether land is "available", "idle" or "waste" to justify allocation. These concepts feature quite prominently in some of the other countries mentioned in the report as well.
In Ethiopia, for example, all land allocations recorded at the national investment promotion agency are classified as "wastelands", i.e., no pre-existing users. A critical analysis by the researchers has found that was not the case indeed. At least, some of the lands allocated to investors in the Benishangul Gumuz and Afar regions have been in use previously for shifting cultivation and dry-season grazing, respectively. In this connection, recall that in a July 29 interview with Reuter, the Ethiopian official in charge of the recently formed Agricultural Investment Support claimed, "The regional states set aside virgin land suitable for large-scale commercial farming." It is not clear how the regional officials give away land that could be needed by the farming/herding population on rotational basis.
In Ethiopia, land rents are split into four deals out of the six projects the report's research team has examined. Several deals – including the contract from the Benishangul Gumuz Regional State—involve five-year exemptions from land fees, as shown in article 4(a) of the contract. Prices range from $3 to $10 per hectare per year. It is clear to anyone that these fees are low, let alone in the international context but also for domestic commercial farmers. In recognizing that, so far only the rental fees in Oromia have been somewhat raised recently.
As mentioned above, significant levels of tax incentives are given to investors in Ethiopia. For example, profit tax in Ethiopia estimated at $20 per hectare per year is exempt for a period of five years. As a result, for 602,760 ha allocated of the documented projects is estimated to entail tax revenue loss to Ethiopia over five years of $60,276,000.
How reliable are land lease information?
Although government agencies are its primary sources, the international report acknowledges that information on land size deals may vary from the reality on the ground. It speculates that this may be because a share of international land deals is hardly reflected in government statistics. In Ethiopia's case, for example, enquiries at the state-level Oromia investment promotion agency found evidence of some 22 proposed or actual land deals, of which nine were over 1,000 ha, and were not recorded along with the other 148 in the national investment promotion agency records.
The report is of the view that it is possible to those state-level agencies in other Ethiopian states may also have records of additional projects that some land acquisition deals may not have been recorded at all. Furthermore, the report acknowledges, "Datasets tend to be incomplete, which translates in gaps in its analysis. For example, in Ethiopia information about the land size of many deals proposed or concluded in 2008 is missing." In addition, an investment by German company Flora EcoPower was reported to involve 13,000 ha (Reuters, 2009), while it is recorded at the Ethiopian investment promotion agency as 3,800 ha only.
Why does Ethiopia need international land lease?
It is this writer's view that, although the Ethiopian government is unwilling to admit publicly the failure of its agricultural policy, its efforts in trying to attract foreign investors with hefty incentives is clear evidence of that failure. Moreover, already its 2010 budget allocation places agriculture to a third place in terms of priority, sign of its discouragement, or sign of resigning responsibility and relegating food production to foreign companies. This is happening for the first time since the regime assumed power, a further affirmation of its policy failures. In equal measures, what its action dose is arouse serious doubts about the future of agriculture in the country.
Yet, in inviting international investors, the government's intention on one hand is said to be to improve the country's food production capacity and on the other to earn more foreign exchange. Ninety-eight percent of the agricultural projects recorded at the Ethiopian Investment Promotion Agency involve food production, compared to only two percent for bio-fuels (though in terms of land area the split is slightly different: 94 percent versus six percent), according to the international report. However, the little told story in Ethiopia is the quiet retreat of domestic investment from agriculture, which is not a good omen for the rural population.
The statement by the director of the Ethiopian Agricultural Investment Support is understandably cautious. In response to the question how much food production by foreign companies would contribute to the domestic economy, his response was, "The contribution to the country's economy of those companies that began work is yet to be quantified." One thing that is not clear is also how the government intends to reconcile its expressed interests with its contractual agreements, where it is seen leaning backwards to the breaking point. Most of the contracts do not specify what percentage of production would be slated for export and to the domestic market, not to speak of government's capacity to benefit in foreign exchange from the farmland lessees' export revenues.
A different perception
Nevertheless, those that may go along with the government's actions say they keep an open mind about its deals, despite their acceptance of the enormous future problems that many foresee. For instance, VOX (June 2009), a publisher of research-based analysis, writes, "The agricultural sector in developing countries is in urgent need of capital. Decades of low investment have meant stagnating productivity and production levels. In order to halve the world's hungry by 2015, as targeted by Millennium Development Goals, FAO calculations show that at least $30 billion of additional funds are required annually…Developing countries' capacity to fill these gaps is limited and official development assistance is no real alternative… The question is not whether international investments should provide a supplement to other capital inflows, but how their impact can be optimised."
Unfortunately, VO/X's sympathy has an obvious blind spot. It ignores the plight of millions of small-scale farmers that are beyond the reach of domestic and foreign capital and technology and cannot compete with international firms with rich backstopping and years of experience. This is more so at a time when those little domestic resources are beginning to ignore them, as shown in the case of Ethiopia's national budget for 2010. Foreign aid has been known for its lack of sympathy and provision of real investments for agriculture in developing countries.
On the other hand, a comparison of data by the international report between FDI and domestic investment in Ethiopia, Ghana, Madagascar and Mali suggests the majority of the investment involves higher shares of FDI. However, what surprised the authors of the report is the extent to which national entrepreneurs and companies are also acquiring land in some of those five African countries, which it says its mention is virtually ignored in the international media reporting.
In Ethiopia, domestic investors account for the large majority of commercial agricultural projects. The sum of their land deals add up to 362,000 ha and an investment of $54 million, compared with 240,000 ha and $24 million for FDI. Given recent developments on the matter, there is no doubt that the data may have already been outdated in both Ethiopia and the other countries where case studies were undertaken. Details not known clearly have also been the sizes of farms held by Ethiopians in partnership with foreign individuals and companies.
Why is the outside world so concerned about international land leases in Africa?
The simple answer could be the fact of it being a new practice in a region whose institutions have terribly failed citizens and many African governmental practices are linked to corruption. Therefore, the various concerns discussed in the international report and in the news media could be summarized as lack of experience by government agencies in land deals, environmental considerations, corruption, the inability of the voiceless to defend their interests and possibility of opening up the host countries to speculator-investors.
The report has found out that the terms and conditions of investment on agricultural lands display a huge diversity among countries and even individual projects. It indicates that its main findings, which are based on a small number of international land deals, include the need to take account of:
Land deals must be assessed in the light of the often complex overall package they are part of, including commitments on investment, infrastructure development and employment – the "land grab" emphasized by some media is only part of the equation;
Land leases, rather than purchases, are predominant in Africa, and host country governments tend to play a key role in allocating them;

Land fees and other monetary transfers are not the main host country benefit, not least due to the difficulty of setting land prices in the absence of well-established formal land markets;
Host country benefits are mainly seen in the form of investor commitments on investment levels, employment creation and infrastructure development – though these commitments tend to lack teeth in the overall structure of documented land deals.
The report candidly states, "Although on paper some countries have progressive laws and procedures that seek to increase local voice and benefit, big gaps between theory and practice, between statute books and reality on the ground result in major costs being internalized by local people – but also in difficulties for investor companies. Many countries do not have in place legal or procedural mechanisms to protect local rights and take account of local interests, livelihoods and welfare. Even in the minority of countries where legal requirements for community consultation are in place, processes to negotiate land access with communities remain unsatisfactory. Lack of transparency and of checks and balances in contract negotiations creates a breeding ground for corruption and deals that do not maximize the public interest. Insecure use rights on state-owned land, inaccessible registration procedures, vaguely defined productive use requirements, legislative gaps, and compensation limited to loss of improvements like crops and trees (thus excluding loss of land) all undermine the position of local people. Virtually all the contracts analyzed by this study tend to be short and simple compared to the economic reality of the transaction. Key issues like strengthening mechanisms to monitor or enforce compliance with investor commitments, maximizing government revenues and clarifying their distribution, promoting business models that maximize local benefit (such as employment creation and infrastructure development), as well as balancing food security concerns in both home and host countries are dealt with by vague provisions if at all."
Why should Ethiopians be concerned about international land lease agreements?
The terms of farmland deals are hardly made public. Although a theoretical possibility exists in a few cases for some transfer of technology for agricultural development, risk also exists to peasant farmers who cannot compete with well-resourced commercial farms. Take, for instance, the case of barley and oilseeds producers in Ethiopia. China is given an unknown size of farmland to produce oilseeds, sesame especially. Saudi Arabia is also given unquantified land to produce barley and wheat. In the case of China, if our country's experience to date were of any relevance, they would definitely bring Chinese workers to do the job. This not only would deny the country employment possibilities but also the transfer of experience and technology would be minimal, which otherwise FDI has been credited for. At the same time, for the last several years China has been Ethiopia's important destination for sesame export. China uses sesame for chocolates, biscuits, and extraction of oil for both its external and domestic markets. If China were to satisfy its enormous needs for oilseeds and its export revenues through its own production in Ethiopia, the marketing disadvantage would surely be to Ethiopia. There is also the possibility that this may drive prices down on two accounts. First, the major importer, china, may not need its share of Ethiopian exports. Secondly, Chinese possibility of overproduction could drive prices down. On top of that, Ethiopia's weak export capacities are likely to be depressed during this competition with China. It is obvious that the competition would hurt millions of small-scale farmers in Ethiopia. For instance, land under oilseeds in 2008 fell to 707 thousand ha from its high of 797 thousand ha, because of price discouragements to small-scale farmers. With it also declined the export volume and foreign exchange earnings, at a time when international prices were much higher than the previous years and more countries were interested in Ethiopian production. Surprisingly, over the years small-scale farmers' production of sesame has shown consistent but limited productivity growth. Perhaps, decline in international prices was one of the factors affecting decline of sesame farmland sizes in 2008, compared to 2005/06. Land under sesame by small-scale framers in 2008 was 186 thousand ha, which is 26.3 percent of the total land devoted to oilseeds, down from 211.3 ha in 2005/06, according to the CSA. Therefore, the emergence of a highly competitive partner now in sesame production may end up being another discouragement to million of small-scale farmers. Strengthening such concerns is also the Chinese business model itself, about which Prof. Desta, Asayeghn has written extensively under the title
China's South-South Cooperative Investments
. He says, "Unless corrected, the Sino-African investment is likely to fatten the pockets of state elites and marginalize the African masses. In line with the objectives of the South-South Cooperation, the degree of control must be reversed if there is going to be technological transfers from China to Africa. Also, China has done little to integrate Africa into the global value chains. It is claimed that Chinese-capital investments in Africa are new (Greenfield) rather than takeover investments. Chinese investments in Africa are constrained by not being environmentally friendly. Though an essential part of the technology transfer package, it is worth mentioning that a review of the literature shows that the Sino-African investments, similar to the Euro-African, have failed to handle Africa's negative environmental externalities." What is said about sesame production by China is also true about the future of barley farmers. There has been slight improvement in barley productivity growth. In 2005/06, lands under barley were 998 thousand ha, which picked up in 2006/07 to one million ha. However, by 2007/08, like sesame, it plummeted to 985 thousand ha, an indication of the price factor in 2006/07. In the light of this, any possible prospect for small-scale holder agriculture in Ethiopian may face its worst nightmare. Alternatively, would the competition by foreign commercial farms become a positive force to the millions of small-scale farmers producing cereals, pulses, oilseeds or would they be compelled to shift to producing something else? The trigger for this article, i.e., the above-mentioned international report, warns, "Decisions taken today will have major repercussions for the livelihoods and food security of many, for decades to come. This means that choices made now must be based on strategic thinking rather than piecemeal and opportunistic negotiations." In the best interests of her country and her fellow citizens, this writer fully concurs with that assessment and conclusion.