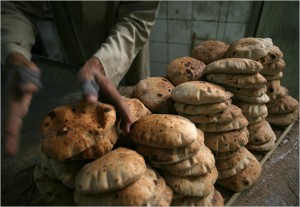 The National (UAE) | 6 August 2009
Sarmad Khan
Janan, a UAE agricultural investment firm, will expand its farmland portfolio in a deal with Egyptian agricultural authorities next week.
The deal will allow Janan to cultivate 42,000 hectares of land with wheat, corn and feed, according to Egypt's official news agency MENA.
This will be Janan's second foray into Egypt, having already invested US$320 million (Dh1.17 billion) there to cultivate about 2,520ha and establish an animal feed plant.
The new project, in the south-west agricultural area of East Oweinat, will be carried out in phases until 2015. The project is expected to produce 350,000 tonnes of wheat a year but all grain produced will be for Egyptian consumption.
Egypt, the most populous Arab nation, is also among the world's biggest importers of wheat, consuming 14 million tonnes of the cereal a year.
Investment firms from Gulf countries have been focusing on investments across Africa and Asia, primarily to obtain secure sources of food for future generations.
Soaring commodities prices last year coupled with high inflation raised concerns about food-security issues for the oil-rich Gulf.
But what started as an initiative to secure food supplies has become a commercially viable business that allows investors to diversify their portfolios.
The UAE imports about 85 per cent of its food needs from abroad at an estimated cost of Dh10.64bn. The country last year started talks with Pakistan to invest up to $500m in its corporate farming sector.
Al Qudra Holding, an investment company based in Abu Dhabi, said last August it planned to acquire about 400,000ha in the Middle East, east Africa and Far East.
The company had already acquired 1,500ha in Morocco and Algeria and was considering buying land in Pakistan, Syria, Vietnam, Thailand, Sudan and India.
The Emirates Investment Group, based in Sharjah, the Abu Dhabi Group and Abraaj Capital, a private equity firm, also have agricultural land holdings in Pakistan.
Gaining entry into markets such as Thailand, one of the largest rice producers in the world, has been challenging for Gulf investors.
In June, Thailand refused to allow Gulf companies entry into its market, citing its Foreign Business Act, which prohibits foreigners from owning businesses relating to farming and livestock. This makes a country such as Egypt, with a population of 76 million people, a prime target for regional investors.
Egyptian authorities are already calling for self-sufficiency in wheat production and are more willing to work with the foreign investors to boost local grains production.