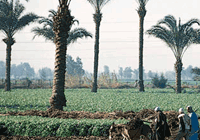 Reuters | 4 Augst 2009
Cairo: A United Arab Emirates company will sign a deal with Egypt to cultivate 100,000 feddans, about 42,000 hectares, of land with wheat, corn and feed, the official news agency Mena reported on Tuesday.
It said the project, involving a UAE agricultural investment firm identified as Janan, would sign the deal with Egypt's Agriculture Ministry next week and said the project would extend until 2015.
The grain would be for use in Egypt, it added.