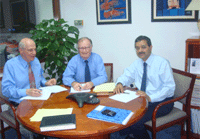 TradeArabia (Dubai) | Wed, 29 Jul 2009
KPMG Fakhro has signed a MoU with international food and agribusiness experts, Hale Group and LSC International, to advise private equity houses and strategic investors in the Agri space, across sub-sectors and regions.
The MoU covers a range of agri-advisory services for organisations based in Bahrain, Qatar, and other GCC countries as well as Mena, South Asia, South America, and other relevant geographies.
The consortium will be able to assist with initial sector/project screening, valuation and due diligence on specific opportunities, advice on financial, tax and legal structuring, and identification of strategic partners, as well as other business advisory services.
'Agriculture and healthcare will remain the area of focus for many governments in the region. Demand for many basic food products including rice, wheat, and dairy products in Middle East has been rising with a total import estimated at 1.5 million metric tons per annum accounting for 90 per cent of the overall food requirements,' said Ramachandran, head of Financial Advisory Services at KPMG Fakhro.
'Rising prices of basic goods has led to a concern over food security and the need for a common strategy in the Arab World.'
In the recent past, many governments in the region have been trying to address the concern by investing in farmlands overseas such as Sudan and Malaysia. John W Power, president, LSC International, feels this is unlikely to solve the problem in the long term, especially if the indigenous population is short of food. Taking into consideration the growing population, there is a call for a combination of solutions that needs to be implemented to overcome the food security issues in the region.
"This consortium will be able provide a blend of both agri and financial advisory under one roof, providing a wide range of services to clients," added Robert Ludwig, principal, Hale Group.
Combined, Hale Group and LSC International have more than 30 years of experience in agribusiness. Both organisations have worked on projects across the value chain in more than 80 countries, including in the GCC.