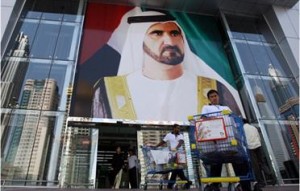 Emirates Business 24/7 | Thursday, July 30, 2009
By Nadim Kawach
A surge in food prices over the past two years has severely hit the living standards of Arab citizens and this could widen poverty and unemployment in the absence of government counter-measures, warned an official report.
Although the prices of cereal and other main farm products have eased since the eruption of the global financial crisis, they have remained high compared with the previous years and are projected to remain so through 2009 before they start to slip again, said the Arab Organisation for Agricultural Development (AOAD).
In a 40-page study about the sharp increases in global food prices during 2008, the Khartoum-based group said Arab nations need to take urgent measures to prevent a repetition of prices spikes, including the creation of a farm fund and the establishment of a strategic food stockpile in the region.
The study warned that Arab nations, among the largest importers of farm products, could again suffer from food price spikes in the absence of such measures on the grounds major farm-producing countries are pursuing their policies of increasing reliance on biofuels to secure their energy needs, adding that such policies have been the main reason for the global food price rise.
"The increase in food prices have had a severe impact on the Arab countries given their heavy reliance on farm imports. High prices have affected individuals, families, institutions and the nation as a whole," said AOAD, which groups the governments of all Arab countries.
"Low- and medium-income families and individuals have been hit hardest as high food prices have forced them to lessen food consumption and cut spending on health, education and other services. If prices remain high, this could lead to health problems, more poverty, unemployment and other social problems. On a wider level, high food prices have led to worsening inflation in most Arab countries and a rise in the trade gap. This has put further pressure on families."
Poor water resources and flawed farm policies have turned Arab states into the largest food importers in the world and the situation is expected to worsen in the absence of major investments in the sector and other measures.
Nearly four years after they approved a 15-year common farm strategy in 2005, the Arab countries have become more reliant on farm imports as such a strategy remains inefficient without right farm policies and sufficient funds.
Low utilisation
Although the Arab region has a vast farm potential as their arable land exceeds 550 million hectares, only about 12 per cent of it is exploited
Despite the enforcement of the 2005-2020 strategy, which involves more investment and exploitation of arable land, Arab nations have become more reliant on foreign food imports and the bill is expected to surge in the coming years because of soaring food prices and the absence of major farm projects.
"According to recent estimates in the Arab World, spending on food accounts for the lion's share of the total spending by Arab families, especially in rural areas, where more than two thirds is spent on food. This level has sharply risen in the past because of the surge in food prices," said AOAD.
"As a result, most medium-income families have joined the low-income category and many of them have become unable to meet other family obligations. The problem is complicated by the fact that many families are now unable to fund such services as education, health and social development. This will only threaten social stability and lead to more diseases among the poor."
Under-developed nations
The report said it expected further complications in less developed Arab nations, including an increase in poverty and unemployment rates, which are already high because of a rapid population growth and poor economic performance.
"The food price surge will also adversely affect the ability of Arab families to save and this will depress their living standards. This, in turn, will prevent many of them from carrying out any projects in rural areas, leading to further drop in growth."
The report said it had noticed a substantial decline in the consumption of some essential food products, including meat, dairy and egg because of the price rise.
"This means many Arab families are now having less proteins. This has already led to an increase in diseases resulting from malnutrition in some areas. Increasing reliance on hydrocarbon-rich food items have also triggered sharp supply shortages in flour and bread. In some less developed Arab nations, there have been reports that citizens have started to have less meals."
The absence of proper policies has allied with other factors to sharply boost the Arabs' reliance on imported food, leading to a steady rise in their farm gap.
Between 2000 and 2008 Arab states are estimated to have suffered from a cumulative food deficit of more than $140 billion (Dh514.22bn), while the gap was about $100bn between 1990 and 2000, according to official data. This means the cumulative Arab farm gap, the difference between food imports and exports, has exceeded $240bn in nearly 18 years. The gap has affected most types of farm products – mainly cereal, rice, sugar, wheat, cooking oil, chicken, meat and dairy products.
AOAD's figures showed the gap in most products has worsened over the past years, with that in grain and flour rising from around $8.5bn in 2004 to $9.1bn in 2005, $9.58bn in 2006 and more than $10bn in 2007.
Wheat gap widened from $4.4bn in 2004 to $5.5bn in 2008, while that in corn surged from about $1.5bn to $2.5bn. The gap in rice also grew from around $1.24bn to $1.6bn and that of barley jumped from nearly $868 million to $2.2bn during the same period.
As a result, the self-sufficiency level in most farm products retreated in many Arab nations. From 55.2 per cent in 2004, self-sufficiency in cereal grew to 57.6 per cent in 2005 before receding to about 56.2 per cent in 2006 and stabilising in 2007. Wheat sufficiency dropped from 53.7 per cent in 2004 to 50.7 per cent in 2006 and about 50 per cent in 2007, while corn fell from 44.3 to 36.8 per cent.
Experts expected the Arab food import bill to have largely widened in 2008 because of higher farm prices and a rapid population growth in the region. The surge in food prices has already prompted plans by some countries in the Gulf, including the UAE and Saudi Arabia, to fund agricultural projects in Sudan and other fertile areas in the region. But such projects are expected to take time and they are not large enough to slash the Arab farm import bill.
Counter-measures
"Arab countries should take urgent measures to encounter food price increase in the future, ensure farm products at reasonable prices, cut farm imports from other countries and achieve self sufficiency in most farm products," said AOAD.
"These measures should include improvement of farm policies, better utilisation of the available arable land, development of existing national agricultural institutions, supporting the joint Arab agricultural ventures and establishments, investment in fertile Arab nations, adoption of necessary policies and national programmes to curb price increases, creation of a pan-Arab fund to finance Arab food security projects and setting up a joint strategic food stockpile."
The study said creation of farm funds is crucial for the success of Arab agricultural projects aimed at achieving self-sufficiency on the grounds most fertile countries in the region lack sufficient investments in this sector.
It noted that several Arab nations with large farming potential had improved investment law and adopted better farm policies but added that they have remained in short of funds needed to support such type of programmes.
Experts believe low investments have been one of the main factors for the Arab farm plight on the grounds there are enough arable areas in the region.
They noted that in 2007, the combined Arab investments totalled about $267bn but less than five per cent has been pumped into the farming sector.
Farm fund
"This should prompt Arab nations to seriously consider the creation of a large joint fund to invest in farming projects in the region," it said.
"At the same time, Arab governments should take the proposal of setting up a strategic cereal stockpile into consideration given its significance in ensuring the food needs of citizens and curbing sharp price increases. It could be a pan-Arab stockpile or regional silos. This stockpile should be sufficient for at least one year and help Arab countries in finalising collective purchasing agreements that will give them a better bargaining position."
In a study early this year, the Federation of the GCC Chambers of Commerce and Industry urged Gulf nations to enter agreements with Sudan and other fertile Arab and non-Arab nations for the allocation of land to Gulf investors set up agricultural projects to reduce their heavy reliance on imports.
GCC countries
The study noted that GCC countries have remained the top food importers in the region given their rapid population growth and arid desert nature.
"These projects could be run as joint ventures under the management of GCC companies, which could also market their products in the region," it said.
AOAD figures showed that most Arab nations are suffering from slackening farm exports and rapid growth in the population, leading to a steady increase in their imports of food products in the absence of major farm projects. The shortage persisted despite an expansion in the cultivated areas in some Arab countries as a result of reforms aimed at increasing crop.
From about 67 million hectares in 1999, the combined Arab cultivated area widened by nearly 4.3 per cent to 70 million hectares in 2002 and continued to expand to reach around 75 million hectares in 2007.
"Arab states have sought to improve farming policies and such moves have resulted in some positive developments," said AOAD.
" But they have also produced negative results, including the private sector's malpractices, which have hurt the interests of the farmers. New policies are needed to regulate these activities and encourage farmers."
What should be done?
Develop joint farming institutions and related investment organisations
Support AOAD and other agricultural establishments by increasing their budgets and financing their projects

Encourage national funds to give more attention to farming projects and support farmers and landlords
Encourage plans to achieve food self-sufficiency

Implement joint Arab projects that will focus on production of strategic food items in the region
Consider the creation of a pan-Arab fund to finance food security ventures

Improve and co-ordinate Arab farm policies
Adopt effective national policies and strategies to curb food price rises

Set up a strategic food stockpile