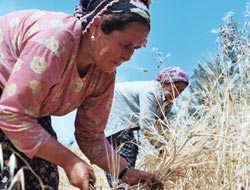 Reuters | Jul 10, 2009
By Thomas Grove
Gulf states show interest in Thai farms
Private Saudi firm Planet Food World (PFWC) will invest around $3 billion in agriculture in Turkey over the next five years to export food products to the Gulf region, the head of its Turkish unit said.
PFWC wants to build 20,000 industrial farms over the next five years, Mete Mutluoglu said in an interview.
Each farm is seen at 10,000 square metres and will raise vegetables and fruits as well as having fish, poultry, sheep and cattle-raising facilities. PFWC's total land usage in Turkey is seen at 200 square kms, he said on Friday.
"This may all be increased, if it is possible. Most of the exports will go to Saudi Arabia and the Arabian Peninsula ... though we would also like to export to Russia and Europe."
He said turnover from the activities may be in the range of $20 billion in five years for the agricultural goods and could go even higher when additional planned food and animal-processing plants are functioning.
Gulf investors have turned to Turkey's large swaths of arable land as a destination for agriculture investment, seen totalling billions of dollars in the next few years, in order to secure food resources for their populations.
A Gulf investment fund made up of Abu Dhabi Investment House, Gulf Finance House, and Ithmaar Bank in October signed a $6 billion a memorandum of understanding for agriculture investments in Turkey.
Food security is expected to be a major concern over the coming years, and the Group of Eight major industrialised nations have focused on raising billions of dollars for agricultural investments.
Saudi Arabian firms have been looking abroad to grow food for the country and Gulf region. PFWC also has a project in Ethiopia, while others are looking at Tanzania and Sudan.
PFWC, which is registered in the United States, will bring its first five prototype farms on line next week in northwestern Turkey. Mutluoglu said the company would start land acquisition and leasing for the farms in the next four to five months.
Land acquisitions would be made from government agencies that own land, cooperatives, privately-held foundations that have arable land, or from subsistence farmers.
"We made a study and saw that an average one-hectare farm makes about $1,200 a year, that's $100 a month. We could rent their land and they would get a salary," he said.
"If the farmers want to work with us, they would get free housing on the land, a salary, insurance all of which can help bring the younger generation back to their farmlands," he said.
The company also plans to upgrade farms slowly in order to employ alternative farming methods including indoor, vertical soil-less and organic farming, Mutluoglu said.