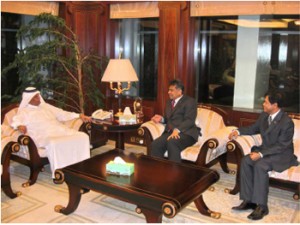 Reuters | Tue Jun 30, 2009
MANAMA, June 30 (Reuters) - Gulf Arab states and the 10-member Association of Southeast Asian Nations (ASEAN) moved toward building a trade bloc based on food and oil at a joint meeting of foreign ministers on Tuesday.
Asian nations rely on the world's largest oil exporting region to secure their energy needs, while Gulf Arab states are targeting food imports and investments in farmland to secure their strategic food supply.
The Gulf Cooperation Council (GCC), a loose political and economic alliance of six Gulf Arab states that includes Saudi Arabia, and ASEAN held their first joint meeting of foreign ministers in Bahrain.
"You have what we don't have, and we have in plenty of what you don't have, so we need each other," said ASEAN General Secretary Suring Pitsuan at a news conference.
The two groups commissioned studies on a free-trade agreement, on wider economic cooperation and increased cooperation in education and cultural affairs, the results of which will be reviewed in September.
Trade between both groups has grown by more than 50 percent annually to some $100 billion per year, he said.
Thai Foreign Minister Kasit Piromya said increased energy cooperation between the two groups would focus on the petrochemical industry and alternative energy.
"This is where the financial capacity of the Gulf states could go into the countries like Thailand, the Philippines or Indonesia to invest in the transformation of the agricultural produce into renewable and alternative energy," he said.
Kasit also said GCC funds could help finance electricity production from river plants in Laos and Myanmar.
Thailand is the world's largest rice exporter.
"We can guarantee any amount of rice consumption in the Gulf for the next ten years," Kasit said.
Both groups of countries are turning to new markets since consumption of energy and manufactured products dropped sharply in the wake of the financial crisis in Europe and the United States.
The GCC in December also suspended talks with the European Union over an FTA.
ASEAN-member Singapore already has signed a free-trade agreement with the GCC.
Bahrain's Foreign Minister Sheikh Khaled bin Ahmed al-Khalifa said a timeline for establishing an FTA would be decided in September.
Bahrain-based Islamic bank Al Salam last week signed an agreement with Thailand's agriculture and food company Charoen Pokphand Foods to invest jointly in agricultural businesses.
(Reporting by Frederik Richter; Editing by Thomas Atkins)