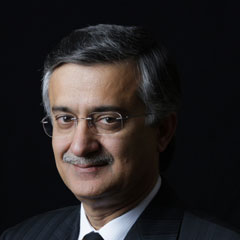 MEED | 25 June 2009
by Melissa Hancock
The Bahraini Islamic investment bank is diversifying its operations through its Vision 3 subsidiary.
Structure
Bahrain-based Islamic investment bank Ithmaar Bank heads a regional banking and financial services group that comprises 22 subsidiaries, associates and joint ventures. The group offers its services through five divisions: investment banking, private equity, private banking, group business development, and mergers and acquisitions.
Ithmaar Bank was incorporated in Bahrain on 13 August 1984, under the name of Faysal Investment Bank of Bahrain EC (Fibec). Until 2003, Fibec was a fully owned subsidiary of Shamil Bank, which acted as a manager of funds deposited for investment in accordance with sharia law. On 21 October 2003, Shamil Bank sold the entire share capital of Fibec to Dar al-Maal al-Islami Trust, and the name of Fibec was changed to Ithmaar Bank.
Company snapshot
Date established
October 2003
Main business sectors
Investment banking
Main business regions
GCC
Chairman
Khalid Abdulla Janahi
Ithmaar now owns 100 per cent of Shamil Bank after buying its former parent company in January 2008. It also has two other fully owned subsidiaries: Geneva-based Faisal Private Bank and Ithmaar Development Company, which manages the bank's infrastructure projects. The bank also has significant stakes in other institutions, including a 26 per cent share in BBK, formerly Bank of Bahrain & Kuwait, and a 21 per cent share in First Leasing Bank, specialising in equipment leasing in the GCC.
Operations
In March 2006, Ithmaar raised about $900m through its private placement and initial public offering (IPO) on the Bahrain Stock Exchange, making it more than three times oversubscribed. It listed on the Kuwait Stock Exchange in March 2008. Today, the bank has a total equity of $1.2bn, with business spanning the Middle East, North Africa and South Asia, as well as Europe and the Asia-Pacific region. The bank's 2008 financial results were buoyed by its involvement in several high-profile transactions that strengthened its revenue streams and geographical diversification. In January last year, Ithmaar acquired a 23 per cent stake in Ithraa Capital, a new investment company established in Saudi Arabia, granting it access to the vast and relatively untapped Saudi market. In June 2008, the bank played a major role in the launch of real estate and infrastructure developer Naseej by successfully arranging a consortium of nine regional institutional investors. The $5.3bn company is currently under formation. In August 2008, Ithmaar joined forces with two leading Middle East banks, Bahrain-based Gulf Finance House and Abu Dhabi Investment House, to form Vision 3, an organisation that provides high-value investment opportunities across a range of sectors. Vision 3 has already announced three major joint ventures that are now under way. The first is InfraCapital, the GCC's first investment bank specialising in the provision of tailored infrastructure development and finance. The second is Hospitality Development Fund, which was established to nurture and support opportunities across the global hospitality sector. Third is AgriCap, an investment vehicle focused on agricultural ventures. In May 2009, Ithmaar Development Company signed a memorandum of understanding with Thai luxury hotel chain Dusit International to manage its $1.6bn Dilmunia development, which upon completion will be a five-star hotel located on Bahrain Health island, a $1.6bn resort dedicated to medical tourism.
Ambitions
Ithmaar Bank has stressed the importance of further enhancing liquidity. At the end of the first quarter of 2009, its liquidity amounted to $1.5bn, equivalent to about 25 per cent of its total assets. With the establishment of Vision 3, the bank is looking to diversify its operations into the infrastructure, agriculture and hospitality sectors. It expects considerable growth in these areas owing to the burgeoning demand for related products and services. From a geographical perspective, the bank already has a strong global footprint through its various subsidiaries and associates. The bank has also expressed its desire to capitalise on the opportunities that arise as global markets begin to recover. Ithmaar's long-term goal is to become the benchmark Islamic investment bank, operating globally from the Middle East.
MEED Assessment
Ithmaar has quite clearly suffered as a result of the financial turmoil, reporting $85.2m in annual consolidated profits for 2008, down from $188m in 2007. The bank's performance has been further adversely affected in 2009. Ithmaar posted $16.4m in first-quarter profits this year, an 88 per cent decline from the $59.3m recorded for the same period in 2008. In March this year, Ithmaar reviewed its priorities for 2009 in light of the ongoing financial uncertainty and decided it was in the bank's strategic interests to postpone a proposed share swap between Shamil Bank and BBK that it had announced at the end of last year. The following month, Ithmaar had to defer a planned $500m fund that was going to be targeting investments in Latin American real estate markets. The fund had been announced in May 2008 as a joint venture of Ithmaar, Kuwait's Al-Safat Investment Company and Bahrain-based Arabian Ventures. The bank has worked hard to pioneer unique investment opportunities, with the creation of Vision 3 the most recent example. Before the downturn hit, the bank had been reporting record results – for example, a year-on-year 91 per cent surge in net profits to a record $59.3m for the first quarter of 2008. It seems likely that this momentum will pick up fairly quickly once the global economy starts to recover, especially given the bank's management's strategy of maintaining stability during the downturn by creating synergies among its subsidiaries, which has safeguarded critical issues such as funding and income on core activities. In this sense, the bank's advantageous diversification has been further bolstered by its considerable geographical spread.
Q&A: Mohamed Hussain, Co-CEO, Ithmaar Bank
? Which is Ithmaar Bank's most profitable division?
Our retail and commercial banking activities generate the most profit today because they involve more diversified activities and create recurring income based on core business with a manageable risk.
? Ithmaar has suffered sharp losses as a result of the downturn. What are the bank's greatest weaknesses and strengths?
Our greatest strength today is our diversity. Our banking and financial services range from retail banking, wholesale banking, insurance, investment banking and real estate to equipment leasing activities. With such diversification, we have been able to maintain a solid liquidity position. In terms of weaknesses, like all investment banks in such market conditions, our activities are in a slowdown mode because of the financial crisis. This translates to limited exits from investments as well as weaker, more limited placement activities.
? Ithmaar's long-term goal is to become the benchmark Islamic investment bank, operating globally from the Middle East. How will you differentiate from other Islamic banks?
Having such a diverse range of financial activities, Ithmaar Bank has more stable sources of funding - for example, through its retail and commercial banking activities, as well as its asset-based activities.
We own a stake in First Leasing Bank, which is the first bank in the GCC dedicated to the introduction and expansion of high-quality, middle-market equipment leasing in the region. It is asset-based, which provides more stable funding.
In addition to these stable sources of funding, we are increasing our interbank funding activities. We are also strong in product innovation.
In May this year, the bank received the Funds Excellence Award 2009 at the fifth annual World Islamic Funds & Capital Markets Conference in recognition of its "international leadership and new fund product innovation."
? Have you witnessed an increased interest in Islamic finance as a result of the financial crisis?
Interest in Islamic banking is growing. This is because this form of banking usually involves asset-based financing, so has proven a more secure alternative to conventional banking. Islamic banking activities have not been directly affected by the ongoing sub-prime mortgage crisis, which uses instruments that are not Islamic structures. Therefore, such banks have not been hurt by special investment vehicles, which are common in conventional banking and have their core business in mortgage-backed securities. Islamic banking activities have, nonetheless, been affected because we work in the same market. The global financial crisis has caused a liquidity squeeze, which has affected the whole banking sector, including Islamic banking.
? Is securing funding a problem for the bank today?
Securing long-term funding is a problem for all banks. However, liquidity has started to come back and, on a short-term basis, funding is still there and interest rates  have reduced.
At the peak of the problem, when there was a scarcity of liquidity, interest rates did go up, but that has changed now that liquidity is gradually coming back.
However, although medium-term funding is becoming more readily available because of improved liquidity, securing long-term funding remains a challenge.