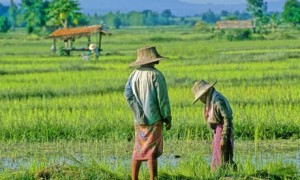 Bangkok Post | 24 June 2009
Government turns down Arab investors
By: CHATRUDEE THEPARAT AND CHAROEN KITTIKANYA
The government yesterday ruled out foreign investment in rice farming and livestock businesses after requests from several Arab investors.
"According to our laws and our policy, foreigners or foreign companies are not allowed to rent or buy land to grow rice or any kind of food, including raising livestock, in Thailand," Prime Minister Abhisit Vejjajiva said yesterday. "The business is restricted only for Thais."
But foreign investment is welcome in processing agricultural products and in businesses that upgrade food and agricultural technology, he said.
Foreigners are also legally permitted to invest in joint-venture farm businesses in which Thais own at least 51%.
Thailand Trade Representative Kiat Sittheeamorn said the government was closely engaged in trade talks with Bahrain on government-to-government deals, particularly for rice.
Thailand is the world's biggest rice producer, with an annual output of about 30 million tonnes of paddy.
"As food security is currently one of the top concerns of Bahrain and the Arabian countries, we are now talking about the possibility of not only selling rice on a G-to-G basis to Bahrain but also of using Bahrain as a springboard to supply rice to the Gulf Co-operation Council (GCC) states, which have a population of 36 million," he said.
The GCC also includes Kuwait, Oman, Qatar, Saudi Arabia and the UAE.
The Thai government also wants to extend its trade alliance with Bahrain to cover building materials and other agricultural products such as tapioca starch, maize and fruit, said Mr Kiat.
By August, through the Office of the Thailand Trade Representative (TTR), the Thai government will host a trade exhibition on Thai Hom Mali rice in Bahrain to promote Thai rice in Gulf countries, where Indian basmati rice currently dominates.
The TTR, headed by Mr Kiat, began in May to function mainly as a special envoy of the prime minister in trade and investment negotiations with countries and international organisations.The TTR advises the premier on international trade and investment policies, on international economic matters and on the impact from international policies and measures. It also co-ordinates the implementation of international trade and investment policies between ministries.
Mr Kiat's position as president is equivalent to that of a deputy prime minister, while trade representatives are the equivalent of ministers, he said.
Mr Kiat will have four representatives working under him. These already include Suthad Setboonsarng, a former Asean deputy secretary-general, and Vachara Panchet, a leading businessman with strong connections with Japan.
The remaining two vacancies will be filled soon, said Mr Kiat.
"The new TTR's responsibilities will not overlap with those of existing ministries such as commerce, agriculture, public health and industry," he said.
"Our duty is to bridge the gap between existing ministries in handling international trade and external relations issues. As a small unit close to the premier, we're much more flexible."