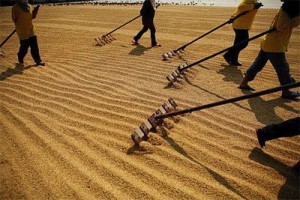 Reuters | Tue Jun 23, 2009
BANGKOK, June 23 (Reuters) - Thailand said on Tuesday it would not allow foreigners to invest in farming and livestock businesses in the country, after requests from several Arab investors.
"According to our laws and our policy, foreigners or foreign companies are not allowed to rent or buy land to grow rice or any kind of food, including raising any livestock in Thailand," Deputy Commerce Minister Alonkorn Pollabutr told reporters.
He referred to Thailand's Foreign Business Act (1999), which forbids foreigners from owning businesses relating to farming and livestock.
Thailand is the world's biggest rice and rubber exporter, producing around 30 million tonnes of paddy and around 3 million tonnes of rubber sheet annually.
The law allows foreigners to run farm businesses in Thailand in the form of a joint-venture company in which Thais must own at least 51 percent.
Gulf Arab countries are targeting investments in farmland and agricultural businesses in developing countries after rampant inflation last year highlighted their dependence on food imports.
Bahrain-based Islamic bank Al Salam has signed an agreement with Thai agriculture and food company Charoen Pokphand Foods to jointly invest in agricultural businesses.
Alongkorn said several countries had expressed interest in investing in growing food in Thailand since he made official visits to the Middle East from March.
The issue was expected to be raised in the first ministerial meeting between Gulf Cooperation Council (GCC) countries and the Association of South East Asian Nations (ASEAN) on June 29-30 in Manama.
The GCC groups Oman, Bahrain, Kuwait, Qatar, Saudi Arabia and the United Arab Emirates.